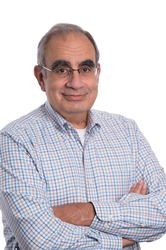 "We are very pleased to welcome Vinod officially to our senior team," said Ramakanth Alapati, CEO of YES.
FREMONT, Calif. (PRWEB) December 21, 2020
YES ([Yield Engineering Systems, Inc.), a leading manufacturer of process equipment for semiconductor advanced packaging, Life Sciences and "More-than-Moore" applications, today announced that Vinod Mahendroo has joined the company as its Senior Vice-President of Operations.
Mr. Mahendroo, who has directed YES's Operations functions for the past three months, brings a wealth of experience in building companies to his role. He was formerly CEO of Nanoconduction and Primaxx, and served as President and GM of the global services business unit at Applied Materials. Prior to that, he held managerial positions at Intel in operations and marketing across various product lines. Mr. Mahendroo's educational background includes a bachelor's degree in Electrical Engineering from the Indian Institute of Technology in Delhi, graduate work in engineering at Notre Dame, and an MBA from the Harvard Business School.
"We are very pleased to welcome Vinod officially to our senior team," said Ramakanth Alapati, CEO of YES. "His many years of experience in supplying technology products to global markets – from product definition through supply chain management, manufacturing, and distribution – provide a valuable resource for YES. Demand for YES equipment is accelerating and we are looking to support that growth. Vinod's proven ability to implement and scale manufacturing capability worldwide will be key to helping us provide our top-tier global customers with highly reliable, high value products sourced through reliable, resilient, and appropriately localized supply chains."
About YES
YES (Yield Engineering Systems, Inc.) is a leading manufacturer of high-tech, cost-effective equipment for transforming surfaces, materials and interfaces. The company's product lines include vacuum cure ovens, chemical vapor deposition (CVD) systems, and plasma etching tools used for precise surface modification and thin-film coating of semiconductor wafers, semiconductor and MEMS devices, biosensors and medical substrates. With YES, customers ranging from startups to Fortune 100 companies can create and volume-produce products in a wide range of markets, including Advanced Packaging, MEMS, Augmented Reality/Virtual Reality and Life Sciences. YES is headquartered in Fremont, California, with a growing presence globally. For more information, please visit [http://www.yieldengineering.com.