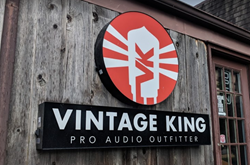 The Avid S6 and S3 have been popular choices for our customers thanks to their intuitive interfaces and control options," says Chris Bolitho, Vintage King Sales Director. "The new S4 and S1 are streamlined control surfaces perfect for studios, post production houses and institutions."
NASHVILLE, Tenn. (PRWEB) July 18, 2019
Earlier today at the Summer NAMM Show in Nashville, Tennessee, pro audio giant Avid announced the release of two new DAW control surfaces, the Avid S4 and S1. These two new products streamline Avid's best selling S6 and S3 control surfaces to offer a space-friendly option for medium to smaller sized recording and mixing facilities.
The Avid S4 is a customizable semi-modular control surface that allows users to harness the power of the S6 in a smaller package. There are four base configurations and three different desk sizes, allowing you to fill in the space with the modules that fit your workflow. Every configuration of the S4 is fully EUCON-enabled and offers intelligent control over top-selling DAWs like Pro Tools, Nuendo, Pyramix, Logic Pro, Cubase, and more.
The new Avid S1 is a more compact version of another control surface classic, the Avid S3. The S1 features the same intuitive interface and comes equipped with motorized faders, touch-sensitive knobs, and customizable soft keys. Pro audio engineers and producers can easily mute and solo tracks, fine-tune plugin parameters plus write automation with unprecedented speed and precision.
As one of the world's leading pro audio retailers, Vintage King is extremely excited about the release of the Avid S4 and S1 control surfaces. These more streamlined versions of Avid's control surface classics will allow a wider range of users to enter the Avid universe and benefit from their premium technology.
Secure your new Avid S4 or S1 control surface today by contacting a Vintage King Audio Consultant at 888-653-1184. If you're interested in more information about the new Avid S4 and S1 control surfaces, please visit vintageking.com for all the details.
If you're in the Nashville area for the Summer NAMM Show, both the Avid S4 and S1 will be in the Vintage King Nashville showroom on Thursday, July 18th, from 6:30 PM to 9:00 PM for an Avid event open to the public. Space is limited!
Please click here to RSVP for the event.
ABOUT VINTAGE KING
Vintage King is a leader in professional audio sales, studio consulting, and comprehensive gear servicing. No matter the scope of a client's needs or goals — from selecting a new microphone to designing a studio from the ground up — Vintage King distinguishes itself with standard-setting customer service, experiential showrooms, unique products and a world class tech services department - all of which begins with the company's knowledgeable, industry-experienced staff. For more information, visit: https://www.vintageking.com/
Press Contact:
Eric Allen, Content Manager
Email: eric(at)vintageking.com Phone: 248.591.9276 x180