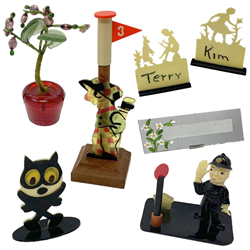 CLEVELAND (PRWEB) November 22, 2019
There's something about large Thanksgiving dinners and other holiday gatherings that make hosts – and collectors – want to pull out the best linens, crystal and china, often inherited. The Kovels suggest adding a personal touch to the table setting by using vintage place cards and place card holders.
Place cards have been used for decades in high society and, now, at parties and weddings, to mark each guest's spot at often very long and elaborately laid-out tables. Emily Post, in her 1922 book "Etiquette," outlined the ground rules for place cards: They had to be "about an inch and a half high by two inches long, sometimes slightly larger." If you have a family crest? Well, Ms. Post declared that it should embossed on the place card.
While not many of us have a family crest, we do love to throw large parties during this festive time of year. Place cards are a great way to make sure Aunt Betty, who loves perfume, is not seated next to cousin Billy, who is highly allergic to scents.
Unique or vintage place card holders can be fun and whimsical, or serious and practical. They are made of ceramic, silver, gold, plastic, iron and all materials in between. Forty years ago, sets of vintage place cards were offered at almost every sale. Terry Kovel started collecting place cards in the 1960s when they sold for $25 to $75, but it was before computers and before books or articles about their history could be easily found. Here is a selection of vintage place cards.
1. The place cards shaped like potted flowers are made in two pieces – a glass pot and a stem with glass leaves to "plant" in a hole. They are 3 1/2 inches tall. The original box offered some clues as to date. The set was made by Paramount Bead Corp. of New York City. The company was mentioned in a 1932 legal decision about import duty. A pair of Paramount dice made in the 1930s also said it was made in Czechoslovakia, which sets the date this set as late 1930s.
2. A set of four celluloid golfers, each with a numbered flag, could fool a collector. The colorful clothes, knickers and slouchy cap, date from the1920s. They have different heights, ranging from 3 to 4 inches. But there was no place to put a name. An internet search showed one selling for $15 and said it was a golf pencil holder. So after pulling a flagpole, a pencil used to score a golf game was found.
3. A pair of vintage celluloid place card holders pictures a Keystone Cop, a movie character from silent slapstick comedy movies from 1912 to 1917, and a hen and rooster.
4. A flat celluloid cat place card, one of a boxed set of 12, resembled Felix the Cat, a cartoon figure introduced in 1919. The set also includes six different birds, a Halloween-style black cat, a rabbit, an elephant, a donkey and a squirrel, all about 2 inches high by 1 inch wide.
5. The Vienna Handwork Co. of Austria made many sets. The dresses on the women suggested a date of 1920s or '30s. The flat celluloid silhouetted cutouts show children at play, including one with two girls playing ping-pong.
6. Rectangular mirrors with painted flowers decorated a set made after the 1950s. Few flower gardens had daffodils or tulips, but lily-of-the-valley grew wild in many states. The other flowers were the four-petal type in various colors. The perfect box and set seemed almost new.
7. Enjoy a special gift from the Kovels — free printable vintage-style place cards for your Thanksgiving table. There are six different festive designs on one sheet. Just download, print, cut, add the names of your guests and fold.
Terry Kovel is America's foremost authority on antiques and collectibles. She is the well-known columnist and author of more than 100 books on antiques and collecting. Kovels' Antiques & Collectibles Price Guide 2020 is now available at Kovels.com and local bookstores. This all-new 52nd edition of Kovels' popular annual price guide features 16,000 prices, 500 marks, and more than 2,500 photos, larger than ever before, of items in 700+ categories most sought-after by collectors. Terry Kovel will discuss antiques and collectibles topics with accredited media. Photographs are available. Contact pr(at)kovels(dot)com.
About Kovels.com
Kovels.com, created by Terry Kovel and her daughter, Kim Kovel, provides collectors and researchers with up-to-date and accurate information on antiques and collectibles. The company was founded in 1953 by Terry Kovel and her late husband, Ralph. Since then, the Kovels have written some of America's most popular books and articles about antiques, including the best-selling annual Kovels' Antiques & Collectibles Price Guide. The website, Kovels.com, online since 1998, offers readers more than a million prices, auction reports, buyers' and identification guides, and a marks dictionary. It also includes a free weekly email, Kovels Komments, that gives readers a bird's-eye view of the market through the latest news, readers' questions and answers, and much more.
Contact Information:
Liz Lillis
216.752.2252
Pr(at)kovels(dot)com