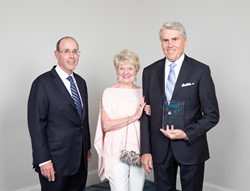 These gentlemen are industry thought-leaders and visionaries who have advocated for and have worked tirelessly to advance the PVC industry.
WASHINGTON (PRWEB) November 17, 2021
The Vinyl Institute (VI), presented Dean Thompson, Executive Director of the Resilient Floor Covering Institute (RFCI), and Stan Graveline, Senior Vice President of Technical Services of Sika Corporation - Roofing, its Industry Partner of Year Award at the annual Vinyl360 conference.
The Industry Partner of the Year award recognizes allies who have made unique and valuable contributions to VI's outreach, advocacy, and education programs.
"Dean's commitment to the vinyl industry is far-reaching," said Ned Monroe, President and CEO of the Vinyl Institute. "He is an industry thought-leader and visionary that has worked tirelessly to ensure the strategic market advancement of vinyl flooring. We are proud to celebrate and recognize his partnership."
Under Mr. Thompson's leadership, RFCI has been an industry leader in sustainability and recycling. RFCI was one of the first product associations to develop product category rules and subsequent NSF/ANSI certified Environmental Product Declaration (EPD). Mr. Thompson was instrumental in getting widespread acceptance of FloorScore® for certification of products that are below a threshold level of volatile organic compounds (VOCs) from resilient floor covering. In addition, RFCI, began a recycling pilot program nearly 5 years ago to study how to increase reclamation of flooring at the end of its useful life. To date, the flooring recycling efforts have been exceptional.
"Stan has been a longstanding member of the Vinyl Sustainability Council and an advocate for the vinyl industry. He has provided generous and honest guidance to the VI and VSC over many years," Monroe said. "He has been a constant contributor in moving the needle and growing the vinyl industry's sustainability initiative. We're glad to be able to celebrate and recognize his leadership."
Mr. Graveline has more than 35 years of experience in the roofing industry in various technical, sales, and management capacities in Canada, Switzerland, and the U.S. Mr. Graveline has provided continued support and leadership to the Vinyl Sustainability Council (VSC), since its formation, and served as VSC Chair from 2019 to 2020. He is a member of the Technical Committee of the Chemical Fabrics and Film Association, member of IIBEC, and Member of ASTM International, from whom he received the William C. Cullen Award in 2011 for his contributions to the betterment of the roofing industry, most notably with regards to his sustainability initiatives. His passion for sustainability was a driving force behind the development of Sika's successful roof recycling program which has diverted more than 80 million pounds of vinyl membrane from the landfill over the last 20 years.