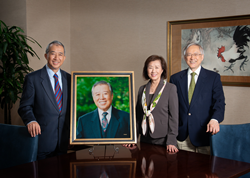 "Mr. T.T. Chao played an instrumental role in growing the PVC industry globally to where it is today, and his children continue to lead with dedication and prestige to maintain the reputation and legacy that has been built." - Ned Monroe, VI CEO/President
WASHINGTON (PRWEB) November 18, 2020
The Vinyl Institute (VI), the U.S. trade association representing manufacturers of vinyl, vinyl chloride monomer (VCM), additives, and modifiers, presented the Ting Tsung (T.T.) Chao Family, founders of Westlake Chemical Corporation, the Vinyl Institute Lifetime Achievement Award at VI's 2020 annual conference, Vinyl360.
"The T.T. Chao Family truly epitomizes the idea of a lifetime of service," said Ned Monroe, VI President and CEO. "Mr. T.T. Chao played an instrumental role in growing the PVC industry globally to where it is today, and his children continue to lead with dedication and prestige to maintain the reputation and legacy that has been built. We are extremely pleased to be able to recognize them with this award."
The Lifetime Achievement Award was established to recognize outstanding service to the vinyl industry over a person's career.
The T.T. Chao family has a long, illustrious history in the vinyl business. A pioneer in the chemicals and plastics industry across Asia and the United States, Mr. T.T. Chao created a successful global enterprise that spanned more than 50 years. As the co-founder of Taiwan's first PVC business, he was a large contributor to the Taiwanese economy, and through many joint ventures and partnerships, his business grew rapidly throughout Asia.
In the mid-1980s, alongside his sons Mr. Albert Chao and Mr. James Y. Chao, he founded Westlake Chemical Corporation. What began as only a low-density polyethylene plant in Sulphur, Louisiana, has since grown to an $8 billion plastic conglomerate that includes a focus on vinyls and olefins sectors and operates more than 50 sites in North America, Europe, and Asia.
Following Mr. T.T. Chao's passing in 2008, his three children continue to lead his enterprises. Mrs. Dorothy Chao Jenkins has served on Westlake's Board of Directors since 2003, and Mr. James Chao has served as Chairman of the Board since 2004. Mr. Albert Chao has been Chief Executive Officer since 2004 and also serves as President and Director of Westlake.
Outside of accomplishments and their tenure with the company, the Chaos have served in a volunteer capacity across a variety of civic and educational organizational boards, including the Leadership Cabinet of Texas Children's Hospital, the Knowledge is Power Program in Houston, the John and Mable Ringling Museum of Art Foundation, Inc., and many more.
About the Vinyl Institute:
The Vinyl Institute (VI), founded in 1982, is a U.S. trade association representing the leading manufacturers of vinyl, vinyl chloride monomer, vinyl additives, and modifiers. The VI works on behalf of its members to promote the benefits of the world's most versatile plastic, used to make everything from PVC piping to flooring, roofing and vinyl siding. The vinyl industry in the United States employs over 350,000 highly skilled employees at nearly 3,000 facilities and generates an economic value of $54 billion. For more information, visit vinylinfo.org.