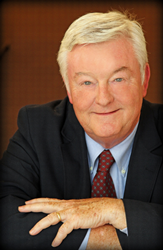 "Dick has been a vigorous advocate for the vinyl industry. He has tirelessly worked to ensure open markets for PVC pipes and is a constant contributor to the VI and Vinyl Sustainability Councils." - Ned Monroe, VI CEO/President
WASHINGTON (PRWEB) November 13, 2020
The Vinyl Institute (VI), the U.S. trade association representing manufacturers of vinyl, vinyl chloride monomer (VCM), additives, and modifiers, presented Richard Church, Plastic Pipe & Fittings Association (PPFA) Executive Director, its Partner of Year award at its annual meeting, Vinyl360.
"Dick has been a vigorous advocate for the vinyl industry," said Ned Monroe, President and CEO of the Vinyl Institute. "He has tirelessly worked to ensure open markets for PVC pipes and is a constant contributor to the VI and Vinyl Sustainability Councils. Dick is a reliable and outspoken supporter of our members, staff and initiatives to promote pipe-related issues. We are proud to celebrate and recognize his amazing partnership."
The Partner of the Year award recognizes an ally who has made unique contributions to VI's outreach and education program.
Mr. Church has 47 years of experience in the codes and standards realm and has been a partner of the VI and vinyl industry as a whole for nearly 35 years. He has spent much of his career removing artificial roadblocks in construction codes and regulations for PPFA members and is active in the development of new codes. He serves as a member of the International Code Council's (ICC) Industry Advisory Committee and is an active participant in ASTM's E60 Committee on Sustainability. In addition, he has recently served as chair of the American National Standards Institute (ANSI) Conformity Assessment Policy Committee and a member of ANSI Board of Directors and Executive Committee. Finally, he has been instrumental in achieving major revisions to the LEED development process.
About the Vinyl Institute:
The Vinyl Institute (VI), founded in 1982, is a U.S. trade association representing the leading manufacturers of vinyl, vinyl chloride monomer, vinyl additives, and modifiers. The VI works on behalf of its members to promote the benefits of the world's most versatile plastic, used to make everything from PVC piping to flooring, roofing and vinyl siding. The vinyl industry in the United States employs over 350,000 highly skilled employees at nearly 3,000 facilities and generates an economic value of $54 billion. For more information, visit vinylinfo.org.