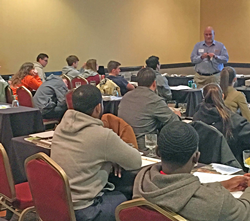 "With approximately 3 million homes being sided each year in the U.S., vinyl siding companies are expected to add 800,000 new jobs by 2024. Few other industries can match this growth" - Kate Offringa, CEO, Vinyl Siding Institute
WASHINGTON (PRWEB) March 22, 2019
The Vinyl Siding Institute, Inc. (VSI), the industry's leading trade organization dedicated to the growth of the vinyl and polymeric siding industry, will host two all-day job fair and training sessions on March 26th and 27th at the Marriott Crystal City Hotel in Washington, D.C. In addition to the opportunity to meet face-to-face with the representatives of several of the area's leading contracting and remodeling companies, each class will offer basic vinyl siding installation instruction with a VSI Certified Installer Trainer showing product samples, an installation video and some hands-on applications.
"The home improvement industry is experiencing a need like never before for the installation skills offered by VSI," said Kate Offringa, CEO, Vinyl Siding Institute. "With approximately 3 million homes being sided each year in the U.S., vinyl siding companies are expected to add 800,000 new jobs by 2024." Few other industries can match this growth, which is projected to exceed 12 percent year-over-year for the next 5 years.
"Our training session and job fair are ideal for students, veterans and hands-on individuals looking to explore new opportunities that include great starting salaries, growth potential and the ability to create beautiful home exteriors."
Each training session will be held from 9:00 a.m. to 1:00 p.m. Immediately afterwards, all attendees will be provided with the opportunity to explore immediate openings for trained vinyl siding professionals with every company participating in the job fair from 1:00 p.m. to 3:00 p.m. Everyone attending is encouraged to bring a copy of their resume.
Please visit http://www.vinylsiding.org/workforcetour2019 for additional information and registration details. Each class will be limited to 50 attendees per day.
About the Vinyl Siding Institute, Inc. (VSI)
The Vinyl Siding Institute, Inc. (VSI) (http://www.vinylsiding.org) is dedicated to furthering the development and growth of the vinyl and polymeric siding industry by helping to develop material, product, and performance standards in cooperation with standards-making organizations and code bodies. It also serves as the informational resource of vinyl siding facts for the industry's national network of remodelers, builders, planners, designers, architects, elected officials, building code officials, distributors, homeowners, and other exterior cladding decision-makers.