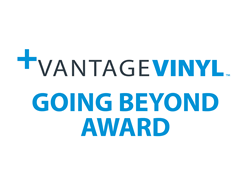 "+Vantage Vinyl participants commit to continuous improvement in sustainability performance. By doing more, they are accelerating their pace of improvement." - Jay Thomas, VSC Executive Director
WASHINGTON (PRWEB) March 03, 2021
The Vinyl Sustainability Council (VSC), a self-funded business council advancing sustainability in the vinyl industry, is pleased to recognize three companies with its Going Beyond Award for their increased participation in the industry-wide sustainability initiative +Vantage Vinyl™.
The Going Beyond Award recognizes VSC members who are exceeding the requirements of +Vantage Vinyl participation and are doing more to advance their company's and the industry's sustainability efforts. This year's award recipients include: the OXO Global Business Unit of ExxonMobil Chemical Company, Occidental Chemical Corporation, and Shintech Incorporated.
"I am excited to recognize these three companies for demonstrating leadership and going beyond the program's requirements," said Jay Thomas, VSC Executive Director. "+Vantage Vinyl participants commit to continuous improvement in sustainability performance. By doing more, they are accelerating their pace of improvement. I applaud these companies for taking additional steps to further our industry's sustainability goals."
+Vantage Vinyl is a voluntary effort to advance the U.S. vinyl industry's contribution to sustainable development. It promotes sustainability of the vinyl industry across three impact categories: resource efficiency and recycling, health and safety, and emissions.
The initiative's structure ensures that each company is advancing the sustainability journey of the vinyl industry in alignment with targeted United Nations Sustainable Development Goals, which are addressing urgent global challenges.
For more information, visit vantagevinyl.com.
###
About the Vinyl Sustainability Council
The Vinyl Sustainability Council (VSC), founded in 2016 in partnership with the Vinyl Institute, is a council created to advance the vinyl industry's efforts in addressing sustainability. The VSC is a collaborative platform for companies, organizations and other industry stakeholders to come together to create a sustainable development path for the industry. For more information, please visit https://vantagevinyl.com/vinyl-sustainability-council/.