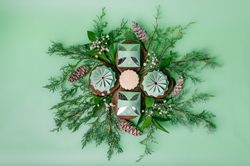 This holiday season our popular bundle sets are a great gift idea because they give recipients a chance to try different Viori products
OREM, Utah (PRWEB) December 07, 2022
Viori™, an all-natural hair cosmetics brand, is taking the guess work out of gift giving this holiday season. Save 25% on all single products until December 25th. Bundle and save up to 38% off. Order before December 16th to ensure delivery by Christmas.
"This holiday season our popular bundle sets are a great gift idea because they give recipients a chance to try different Viori products," said Tszman Fisher, co-founder of Viori. "Everyone can feel good about giving all-natural, sustainable, hair and body wash bars that really work. Our dry shampoo, bamboo comb and bamboo bar holders also make great gifts. If your stumped about what to choose, you can't go wrong with our digital gift cards. Best of all, Viori's offerings are not only beautifully packaged, we also have a limited time holiday gift box so there's absolutely no wrapping necessary."
Viori's newest limited time offering: Teak Shampoo + Conditioner Bars
Experience the warm, earthy scent of the teak wood grown in southern Asia. This masculine scent is natural yet refreshing, with hints of forest greenery and leather.
Viori offers discounts on bundle orders and customers save 25% on subscription services. Holiday bundles are now available at Viori.com and come in a beautiful gift box.
Viori Products
Shampoo and Conditioner Bars Viori™ shampoo and conditioner bars are sulfate-free, paraben-free, phthalates-free, pH balanced, natural, 100% vegan, plastic-free, sustainable, cruelty-free, and ethically sourced.
Sunrise Mist Dry Shampoo This fast-absorbing dry shampoo nourishes hair, neutralizes odor and leaves no residue. Its light cocoa, vanilla scent is 100% natural and is talc-free. It's 100% natural, vegan, sulfate-free, paraben-free, cruelty-free and plastic-free.
Body wash Bars Viori™ body wash bars cleanse and moisturize the skin. They're 100% natural, vegan, sulfate-free, paraben-free, cruelty-free, and plastic-free. Available in natural aloe scent or unscented.
Handcrafted Bamboo Comb Made by a guild of bamboo artisans who have been nurturing their local bamboo and perfecting their craft for centuries. Bamboo gently massages the scalp and detangles hair, promoting circulation and distributing natural oils to increase shine.
Bamboo bar holders. Handcrafted by local villagers in southern China. These bamboo bar holders are eco-friendly, biodegradable, and 100% sustainable. You can also stack these holders in order to save space in the shower.
Digital Gift Cards Not sure what to buy? A gift card lets the recipient choose whatever they want.
To order Viori products visit https://viori.com/
About Viori™
All Viori™ products contain the same, ritually prepared Longsheng rice water used by the Red Yao for centuries. Viori works directly with the Red Yao to purchase their ancient rice, at a premium, to create a long-term, sustainable partnership. Viori works with the Red Yao directly to initiate projects to bring about economic prosperity, ecological harmony, cultural preservation, and community wellbeing for their tribe.
To learn more about Viori's mission click here.