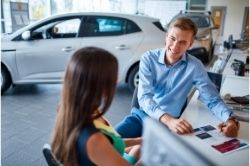 BRIDGEPORT, W.Va. (PRWEB) June 11, 2021
Dan's Car World follows a highly customer-centric business process. The focus is always on serving people first and foremost. This is the main reason behind the VIP Customer Service process available in the dealership.
This service is built on important factors namely transparent pricing, precise vehicle information, prompt responses to customers' calls and messages and a comfortable and hassle-free purchase process. All customer handling and purchase processes are streamlined effectively to ensure less wastage of time and a wholesome vehicle buying experience.
Dan's Car World has an award-winning team with the best staff who are industrially trained experts in their fields. This further ensures high-class customer service that keeps the customers first on a pedestal. The team also helps customers apply for financing their car based on their budget, needs and payment methods. To enable this, the dealership has strong ties with financial institutions, lenders and credit unions across the region that offer the best loan rates. The dealership enjoys a deep and satisfied customer base from across the regions such as Clarksburg, Fairmont, Morgantown, Buckhannon and West End to name a few.
Please visit danscarworld.com to learn about the dealership, its vehicle inventory, vehicle services, VIP customer service and more. In case of any queries or concerns, customers can contact the dealership team by phone, 304-848-9250, or visit the dealership in person at Dan's Car World, 1221 Johnson Ave in Bridgeport, WV. For more details, customers can check the 'Contact Us' page available on the website.