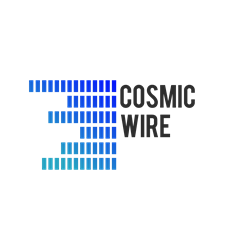 The Whole point of Cosmic Wire is to help artists break through and become financially independent. We know how to do it, now we will show our artists how to do it.
LOS ANGELES (PRWEB) January 25, 2021
Viral Artist/Producer, BLAZAR, Partners with Global Influencer and Marketing Mastermind, BJ Klock, for the formation of Independent Label, Distributor, and Artist Services/Marketing Firm, COSMIC WIRE.
Cosmic Wire is a full service Artist Centered label and development firm focused on a holistic approach to Music Creation, creators, and Marketing. "We want to start developing artists again, nurturing them into their own independent business ecosystems under one umbrella of true, and organic gorilla marketing. In short, we want to put out records that matter from passionate and driven artists that matter. From song creation to the full marketing blitz, it's a holistic approach," says BLAZAR (Jerad Finck).
Cosmic Wire just released their first single "WHOLEthing ft Afroman'' by HEwas. "The song just fit, BLAZAR and I had been working on a few other things when he sent me the track and I was just blown away. I knew I could market it, Afroman is a legend and such a Marquee artist. I knew I could do it better than the rest, so we formed this label with the partnership of my marketing firm Advisght, who will be handling all of the DSP and Direct Marketing." BJ Klock is a global influencer and "Ghost Marketer/SEO Mastermind" having been linked and rumored as the brains behind some of the biggest careers and brands in Hollywood. "I've been doing it so long for so many other people, I figured it was time I did something I personally wanted to do, and believed in. I want to change the world and make it a better place, I want to empower artists, and I want to do it better." Cosmic Wire is set to release a robust signing of Artists in the next few months and have already signed several partnerships with other major influencers and industry disruptors soon to be announced creating what will be an independent nexus or nebula, all under Cosmic Wire. "The whole point of Cosmic Wire, is to help artists break through and become financially independent. We know how to do it, we've been doing it, now we will sign songs and artists we believe in, and show them how to do it. From larvae to flight, Cosmic Wire is going to be different, a place where artists will be able to be supported and guided every step of the way in true partnership," says BLAZAR (Jerad Finck).
BLAZAR (Artist/Producer Jerad Finck) has had 3 top 40 records, with his last single "Criminal" Selling over 60,000 units and debuting on Billboard. BLAZAR, won the grand prize in the USA songwriting Championship (Previous winners Megan Trainor, American Authors), He had the #1 Independent record in the country with "Runaway", has toured relentlessly, and his music is regularly licensed to film and TV and is a known Ghost Writer.
BJ Klock is a Global Influencer, CEO, and Marketer. He developed an internal network via his company ADvisight that has over 500 million active users, he has created billions of dollars of revenue for clients and business associates, and has been linked as the mastermind behind some of today's biggest stars. His Goal is to help 100 million create financial freedom by 2035.