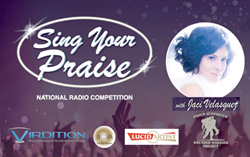 There are thousands of talented singers and musicians looking for new ways to increase their visibility and seek opportunities to get a foot in the industry door, and we help facilitate their journey.
TAMPA, Fla. (PRWEB) September 13, 2016
Virdition, a social networking company for the talent industry, announces auditions for musical talent nationwide to audition remotely for "Sing Your Praise," a national radio competition offering a minimum grand prize of $10,000 plus the chance to record with Grammy nominee Jaci Velasquez.
The "Sing Your Praise" national radio competition is a unique online talent competition open to all soloists, bands, praise teams, and choirs that perform Christian music.
Virdition eliminates costly travel arrangements, long audition lines and the pressure of performing before live judges by partnering with contestants' local participating Christian radio station, providing auditioners with the opportunity to showcase their talent where it counts. The competition is multi-round and entirely voter based, which means that in order to move up from round to round, contestants with the highest audience votes in their state will move on to compete head to head against winners from other states. Winners in each round—those with the highest number of votes from audience listeners—continue to advance.
Contestants build up votes via their social media networks, and with each round contestants' votes renew to level the playing field. Thirty-two contestants will advance to round two, 16 contestants will advance to round three, and eight contestants will make it to round four.
Fourteen wildcard categories are included in the bracket round of 64 contestants, which means those who don't win their state competition can still advance in the competition as a wildcard.
In addition to state and wildcard categories, the "Sing Your Praise" competition includes Christian music performers in the following categories:

Best Female Vocalist
Best Male Vocalist
Best Praise Team / Band
Best Choir
Best Latin
Best Gospel
Best Contemporary
Best Country
Best Hip-Hop
Best Original Music
Sixteen Christian music industry professionals will also be scouting the "Sing Your Praise" competition, including Josh Bailey, VP of A&R, Word Records/Warner Music; James Rueger, VP of A&R, Fair Trade Records; Greg Lucid, Executive VP, Lucid Artist Management, and Justin Nicolet, Centricity Publishing.
Virdition's "Sing Your Praise" competition provides artists with online tools to register, build a portfolio, gather votes and gain exposure on social media, get sponsors, and more. All auditions and performances are conducted from the contestants' homes or studios online, via Virdition's dynamic online platform.
"There are thousands of talented singers and musicians looking for new ways to increase their visibility and seek opportunities to get a foot in the industry door," says Virdition founder Will Quinones. "Our goal is to facilitate their journey to success and fame from the audition process.
"Virdition also provides casting and talent agents with a state-of-the-art online audition management system and industry-leading marketing tools that help them stand out. We've built the world's first and premier social network platform for the talent industry, one that will forever change the way agents find talent, and talent fulfills their dreams."
Participants may enter one or more categories, and those who are eliminated from the main competition can continue in the "Best-in" categories competition, and remain eligible to win cash prizes in each category entered.
Entry fees for the main category—the state and wildcard competition—are $39.99, with an added fee of $20 for each individual category entered. Entry fees help cover competition costs and prevent frivolous entries from people who are not serious artists, or entries that do not meet contest criteria.
"Sing Your Praise" is Virdition's first national Christian artist competition, and the company is investing heavily in advertising on Christian radio stations nationwide. The aim is to present talented individuals to industry professionals who are committed to scouting talent in this competition. This is a serious competition and Virdition is committed to providing fresh, talented musicians and singers to quality record company professionals.
To learn more about the competition, visit the "Sing Your Praise" website. To learn more about other talent competitions, visit the Virdition website, email willq(at)virdition(dot)com or call 813.477.2177,
Founded in 2009 by Will Quinones, Virdition is a social networking site for the talent industry. Quinones developed Virdition (virtual audition) to give talented individuals everywhere unique online functionality to showcase their talents, build their portfolios, find opportunities to present their talents, compete with others and achieve success.
Developed for performers and agents, the Virdition online platform fills a void for talented musicians, performs, actors and models to gain visibility among agents and agencies looking for fresh, new talent without the demand for costly and time-consuming travel to audition locations. To learn more about how Virdition's contest entry and audition platform works, view the "Understanding our Competition Bracket" video.
###