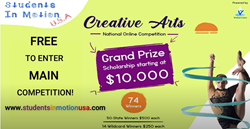 Here is a unique online competition open to students with talent the performing arts.
TAMPA, Fla. (PRWEB) September 28, 2020
Virdition, a social networking company for the entertainment industry, announces the first annual 'Students in Motion USA' national online creative arts competition. Talented student performers from across the U.S. are invited to enter and compete remotely from home. The national bracket-style competition, Students in Motion (SIM) is open to all performers ages 5 to 18 to compete online for a grand prize $10,000 scholarship and cash prizes while helping parents and teachers at the same time.
In addition to a grand prize scholarship starting at $10,000, 73 starting cash prize winners will be named. The term "starting cash prizes" means that the competition's cash prizes will grow as the competition grows. The SIM main competition is free to enter and audience voters can vote to support their favorite student talent at no cost.
The Students in Motion USA competition is a unique online talent competition open to talented young people in the performing arts including:

Musicians
Singers
Artists/painters
Poetry/spoken word
Drama
Dance
Virdition's student talent competition is designed to help performing arts schools and teachers earn money for classroom supplies by offering opportunities to become affiliate partners of the competition and share their competition link with student audiences on social media. Similarly, it helps parents of student contestants earn money in the form of tips and possibly earn ad commissions along the way for school supplies and clothing. Most important, it gives students opportunities to compete for a scholarship and cash prizes.
Virdition provides students with essential tools for success from the start. Upon successfully registering, every contestant receives a free limited portfolio on the Virdition platform. The portfolio is attached to their voting page for audiences, entertainment industry professionals, and people in their social media networks to view.
"As a contestant, your portfolio is your chance to tell your story and showcase your talent," says Virdition founder and CEO Will Quinones.
"The 'Students in Motion' competition invites industry professionals from major entertainment companies whose jobs are to find tomorrow's stars, to look view our contestants in action. With that in mind, a portfolio acts as each student's talent resume in the entertainment field, to which you will add your biography (BIO), audio, video, and images for review," Quinones says.
How the Students in Motion competition works:
SIM will not have formal judges for this competition. Votes will be tallied from each student's social media account supporters. Entry costs are free for the main state and wildcard competition, while individual category fees are $20 each.
Qualifying Round – 50 state winners
This SIM competition is entirely online voter-based. In order for a contestant to move on from the qualifying round to the bracket round, they are required to earn the highest number of online votes among all contestants in their state. Qualifying states must have three or more active contestants.
Wildcard Winners
Fourteen Wildcards will be included in the bracket round of 64 contestants, so contestants who don't win their state still have a chance to advance as a wildcard.
Bracket Round of 64
Once a contestant wins their state by votes or wildcard, he or she will then advance to the bracket round to compete head to head against other state winners. To advance to the next bracket round, contestants must beat their opponents by having the highest number of votes at the end of the round. By winning a bracket round, contestants not only win the bracket round's posted cash prize but they also advance to the next level of competition. Votes renew back to zero in each round so contestants that advance from round to round will start on a level playing field.
Best-In Category Competitions
During the entry process, contestants may also compete in one or more of 10 "Best-In" category competitions for a starting cash prize of $500 and a trophy. These Best-In awards categories will run parallel to the main competition and will end when the main bracket competitions end. Even contestants who are eliminated in any round of the main competition can continue to share and compete in their Best-In category or categories to the end of the competition and remain eligible to win cash prizes in each category entered.
Best-In category competition fees are $20.00 per category. Entries are closed for these categories after completing registration to the main bracket competition. The Best-In categories include:
Musicians
Singers
Art/Painting
Poems/Spoken Words
Drama
Dance
Kids 5 to 7
Kids 8 to 11
Teens 12 to 15
Teens 16 to 18
As September is Childhood Cancer Awareness Month, Virdition chose to launch a SIM fundraiser to benefit St Jude Children's ® Research Hospital in conjunction with the official launch of the "Students in Motion" Competition.
Since founder Danny Thomas opened St. Jude in 1960, the facility's ongoing mission has been to advance cures and means of prevention for pediatric catastrophic diseases through research and treatment. No child is denied treatment based on race, religion or a family's ability to pay. SIM is committed to reaching its fundraising goal of $20,000. To learn more about the fundraiser and to make a contribution, visit the Students in Motion Creative Arts Competition's St. Jude fundraising website.
For more information about the competition and tp register, visit the "Students in Motion" website. To learn more about other talent competitions, visit the Virdition platform, email willq(at)virdition(dot)com or call 813.477.2177.
About Virdition
Founded in 2009 by Will Quinones, Virdition is a virtual auditioning and competition networking site for the entertainment industry. Quinones developed Virdition (virtual audition) to give talented individuals everywhere unique online functionality to showcase their talents, build their portfolios, find opportunities to present their talents, compete with others and achieve success.
Developed for performers and agents, the Virdition online platform fills a void for talented musicians, performs, actors and models to gain visibility among agents and agencies looking for fresh, new talent without the demand for costly and time-consuming travel to audition locations. To learn more about how Virdition's contest entry and audition platform works, view the "Understanding our Competition Bracket" video.