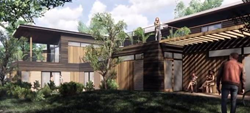 Southland Log Homes was an incredible help and inspiration to the team
COLUMBIA, S.C. (PRWEB) May 15, 2019
A team from Virginia Tech (Blacksburg, VA) has won the Grand Prize in the U.S. Department of Energy Solar Decathlon, a collegiate competition that challenges student/faculty teams to design and build highly efficient and innovative buildings powered by renewable energy. Southland Log Homes provided the Virginia Tech team with guidance on timber fabrication and construction techniques to help the group of designers, engineers, and architects arrive at the winning design.
The Virginia Tech team prevailed in the competition against teams from almost 40 other universities, including Georgia Tech, Penn State, Carnegie Mellon, and Yale. The winning design, named "TreeHAUS", focused on the goals of energy efficiency, sustainability, and financial feasibility.
The Virginia Tech team reached out to Southland for help and guidance with the design, recognizing the company's industry leadership and over 40 years of designing and manufacturing log homes and log cabin kits.
"Southland Log Homes was an incredible help and inspiration to the team," said Zachary Gould, PhD Candidate in Environmental Design at Virginia Tech.
Southland Log Homes, America's largest designer and manufacturer of log homes, and a member of the U.S. Green Building Council, has been previously honored with multiple national awards for excellence in design of log home plans. "We congratulate the Virginia Tech team on their achievement," said Ken Sekley, President and CEO of Southland. "Their effort is a further demonstration of the energy efficiency and environmental sustainability that can be achieved with homes designed using beautifully natural, solid wood timbers."
About Southland Log Homes: Headquartered in Columbia, South Carolina, Southland Log Homes was founded in 1978 and is the largest log home company in the United States. Southland operates model home sales offices and has authorized Southland dealers located throughout the United States, Europe, and Asia. Model homes are located in Atlanta, GA; Baton Rouge, LA; Biloxi, MS; Birmingham, AL; Charlotte, NC; Christiansburg, VA; Columbia, SC; Dallas, TX; Danville, PA; Fredericksburg, VA; Gatlinburg,TN; Greensboro, NC; Greenville, SC; Houston, TX; Northwest Indiana; Kansas City, MO; Lake City, FL; Louisville, KY; Macon, GA; Memphis, TN; Nashville, TN; Springfield, MA; and San Antonio, TX. For more information about Southland Log Homes, call 800-641-4754 or visit SouthlandLogHomes.com.