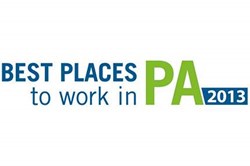 The Best Places to Work tribute is an indicator of the incredible team UECU has built together and their continuous commitment to UECU's members, the Credit Union, and one another.
Wyomissing, PA (PRWEB) October 15, 2013
Utilities Employees Credit Union (UECU), the billion dollar virtual credit union that serves the U.S. utility and energy sector, has received statewide recognition for the positive workplace it provides to the 90 employees who serve its nationwide membership. UECU's single operations center, located in Wyomissing, Pa., was named as one of the Best Places to Work in Pennsylvania for the fourth consecutive year, in a September announcement made by the competition's organizers. UECU has received this designation annually since 2010, its first year participating in the program.
"The Best Places to Work tribute recognizes the caliber of the UECU team and their continuous commitment to our members, the Credit Union, and one another," says Glen A. Yeager, President and CEO of Utilities Employees Credit Union. "I am extremely proud that UECU has again earned this award and am honored to work with everyone across our organization."
UECU's employees have provided financial solutions to U.S. utility and energy workers and their families from its Pennsylvania headquarters since 1934. A full-service financial institution, UECU is among the two percent of U.S. credit unions to consistently receive the A "Excellent" Weiss Rating for financial soundness and one of the few institutions to reward its members with a year-end bonus dividend, which last year totaled nearly $1 million. More than 600 utility-related companies offer UECU membership as an employee benefit, which includes free nationwide access to financial products and services, credit counseling, and financial education, for utility employees and their families.
This is the fourth year in which UECU has been recognized in the Best Places to Work small-medium companies division for Pennsylvania businesses with fewer than 250 staff members. Its ranking among the 100 recognized employers will be announced in December of this year. In 2012, UECU was ranked as Number 13 among the 71 companies in its division.
The annual Best Places to Work in Pennsylvania competition is organized by the "Central Penn Business Journal" with its partners, the Team Pennsylvania Foundation, the Pennsylvania Department of Community and Economic Development, and the Society for Human Resource Management's Pennsylvania Council. The Best Places program is designed to identify the best places of employment in Pennsylvania and provide recognition for the Pennsylvania economy, workforce, and businesses.
Winning companies achieve the highest scores in a two-part assessment that determines the state's 100 Best Places to Work. Each company's workplace policies, practices, philosophies, systems, and demographics are first evaluated for 25 percent of its score. The largest part of a company's score is determined by the results of an employee survey, which measures the quality of the working experience provided by the employer. The combined score determines the top companies and their final rankings.
For more information about Utilities Employees Credit Union, visit http://www.uecu.org.
Information about the Best Places to Work in Pennsylvania program and its standards for evaluating businesses is available at http://www.bestplacestoworkinpa.com.