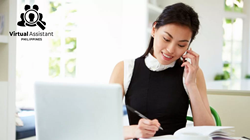 "Companies are open to casting a wider, offshore net to fill roles and the Philippines is a great place to find workers." --Bruce Jones, Virtual Assistants Philippines
CHICAGO (PRWEB) November 16, 2022
Bruce Jones, a Chicago-based SEO consultant and strategist, has launched Virtual Assistant Philippines to help American companies fill employment positions that have been left by the pandemic and the Great Resignation. He says that Filipino remote workers are now poised for success because of the uncontrollable surge of locals leaving their jobs in the U.S.
"The events of the past few years have left the job market hungry for new talent, especially in the area of administration, which can easily be done remotely," said Jones. "I created Virtual Assistant Philippines to help Filipino workers fill administrative roles in American companies that Americans do not want. The service will benefit the U.S. but can also pair Filipino English speakers with opportunity in Australia and the United Kingdom."
As a SEO coach and mentor, Bruce's work involves plenty of data and analysis and he has watched the rising trend of the remote worker and the Great Resignation, as well as the increasing pressure on American employers. During the pandemic, the workplace shifted to embrace remote workers, which was the solution when working in-office became a health hazard, he explained. Then when workers were asked to return to the workplace, many simply left the work force, leaving employers scrambling to find new workers.
"The new acceptance of remote workers removes the requirement to find someone in the city, state or even country to employ. Companies are open to casting a wider, offshore net to fill roles and the Philippines is a great place to find workers," Jones said.
Virtual Assistant Philippines helps employers fill remote roles with English-speaking professionals in a variety of areas, including search engine optimization, research, outreach, content writing, graphic design, and more. An additional benefit to American companies is the cost savings in hiring Filipino virtual assistants. As American workers continue to demand increases in salaries that companies find restrictive, remote workers can be hired from Virtual Assistant Philippines at less than the domestic rate.
Virtual Assistant Philippines can be found at https://virtualassistantphilippines.ph.
ABOUT VIRTUAL ASSISTANT PHILLIPINES
Launched in 2022, Virtual Assistant Philippines is a dedicated platform to help global businesses find offshore professionals for various positions in virtually any market, sector, or industry. The virtual assistants provide professional services such as search engine optimization, research, outreach, content writing, graphic design with near-native proficiency in English. They perform stand-alone work with business owners or can integrate into an existing in-house team. For more information, visit their website or contact info@virtualassistantphilippines.ph.