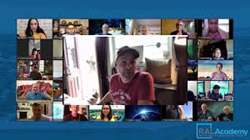 "The word is out, smaller is Better, especially when it comes to residential assisted living compared to the "Big Box" style nursing homes. Seniors are even moving out of their huge communities and into the comfort and safety of smaller Residential Assisted Living homes."
TEMPE, Ariz. (PRWEB) August 18, 2020
Take advantage of the nation's best 3-day Fast Track Residential Assisted Living training, now available online.
The year of 2020 has not been a year of clear vision for many.
This is why the Residential Assisted Living Academy is magnifying a golden opportunity that is causing entrepreneurs to see things differently.
What You Will Learn:

Learn how to start and operate your own residential assisted living home
Get a comprehensive view of the assisted living industry and what role we play
Digitally tour Gene Guarino's and his most successful students RAL homes
Learn what to do and mistakes to avoid in order to maximize your success
Take advantage of training from Gene Guarino and his team of experts
An unexpected and unwanted spiral of recent events has surfaced employment uncertainties, business closures, and a stock market roller coaster.
Real estate investors are on edge, but there's one exception – Residential Assisted Living stands out as a clear winner.
Residential Assisted Living Homes are still open, caregivers are still working, and family members of residents need our industry more now than ever before.
This is because millions of seniors are in need of care and a safe place to live – the aging process is a constant reality.
This rising Silver Tsunami of seniors in need of housing and assisted living has created a nearly fail proof opportunity for people seeking to be a part of a business solution.
This is an opportunity for entrepreneurs to "Do Good and Do Well" – the business motto of the Residential Assisted Living Academy.
Individuals seeking to learn more about becoming an owner or operator can now take advantage of a Live In-Person 3-Day Fast Track training online.
REGISTER NOW
Visit: Residential Assisted Living Academy
Upcoming Virtual 3-Day Fast Track Available Dates

August 21-23, 2020
September 18-20, 2020
October 23-25, 2020
December 4-6, 2020