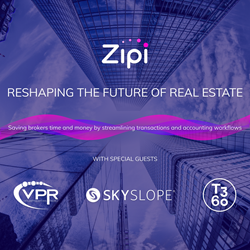 Zipi is bringing innovative change
SACRAMENTO, Calif. (PRWEB) August 18, 2020
Closing more than 1,000 monthly transactions and serving 3500+ associate brokers and agents, Virtual Properties Realty was the first enterprise client to fully transition from a [cumbersome] software they had used for over a decade to streamlining back-office and accounting workflows with Zipi, and at the same time operationalizing the SkySlope Sync integration.
Real estate technologies have traditionally been limited in functionality with regard to integrating seamlessly and providing automated workflows. For brokers, the trend towards piecing together à la carte software applications to manage back-office processes continues falling short of its promise. By orchestrating native backend connections with real-time bi-directional updates, Zipi and SkySlope deliver the benefits of a singular application without encumbering existing workflows to mutual clients.
"There's a lot of change happening. Accounting is always seen as an afterthought and it's not the way it should be approached. I think it's a piece of the real estate transaction within a real estate operation that really has to be rethought and I feel that Zipi is bringing innovative change to that," says Jonathan Peterson, VP Broker Technology at T3 Sixty.
Jamie Mertz, COO of Virtual Properties Realty said, "Integrating both with SkySlope and now Zipi, has helped us stay ahead of the curve and offer these simple ways for our agents to be able to stay in compliance and get paid as quickly as possible."
"We may be the new kid on the block, but we've also been around the block," muses Jesse Garcia, CEO of Zipi. "What makes this milestone truly special is its testament that we are capable of achieving proof of concept at scale, all thanks to good faith collaboration."
For further information regarding Zipi's recorded webinar, please visit: https://zipi.to/reshaping_real_estate
About Zipi
Founded on a steadfast dedication toward client success, Zipi continues to raise the bar throughout the real estate industry with innovative workflows and integrations. Zipi is the only proven unified solution for streamlining deal pipelines with a fully-featured financial management suite. Learn more about Zipi at: http://www.zipi.app.
About Virtual Properties Realty
Virtual Properties Realty set out to create something better for their agents and clients. Today, Steve and Karen pride themselves for not only keeping up with cutting edge technology, but for providing their agents with superior training and broker support. VPR has since grown to be the largest privately owned Real Estate firm in Georgia. Learn more about VPR at: http://www.virtualpropertiesrealty.com