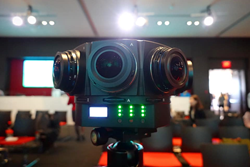 We can assist our venue partners in salvaging bookings in many cases, allowing those who will not be able to travel to participate in the events via personal devices, desktops, and Oculus Go headsets
NORTHBROOK, Ill. (PRWEB) March 12, 2020
In a time of uncertainty, Artists of the Industry wants to bring in the positive. New technologies create innovation, excitement and new opportunities.
Providing solutions for our partners in the hospitality, convention and events industries is how AOFTHEI Interactive was born. Within our creative event technology business we have experienced a great deal of cancellations this past week which significantly and instantly impacted our 2020 revenue in our creative content division and created large losses for our brand partners. Our interactive division has stepped in to help offer solutions to save as many events as possible through our VR platforms. Duane Tornquist, Co Founder - Artists of the Industry.
In an industry that thrives on communication and personal relationships, the unpredictability of the COVID-19 is a growing concern. We have already seen a rippling effect of postponing and cancellation of highly anticipated events, but we believe there are solutions.
AOFTHEI specializes in AR, VR, 360 videos and remote broadcasting. These technologies are innovative solutions to keep the communication flowing, while protecting the safety of the public, your customers and employees.
Artists of the Industry can help you broadcast your event, conference, or meeting with interactive 360 video. 360 video is a premium medium of traditional 2D video. This concept allows a heightened experience with more interaction. Benefits of live 360 broadcasting are global accessibility, immersive engagement, cost effective, and environmentally friendly.
Virtual tours are an exciting new method for sales. Bringing in a minimal crew, we are able to capture the unique aspects of your hotel that make it an appealing option to your customers. Once the video is complete, it will be loaded onto a headset that you can send to your customers to view in the safety and comfort of their own homes. We have pre-priced packages to make this process quick and efficient for your sales team.
The new AOFTHEI Interactive Live Engagement platform offers total 360 immersive digital broadcasts from any location to unlimited destinations anywhere around the globe.
Utilizing our virtual meeting platforms has always been a great solution for our customers in reaching global audiences in conjunction with many of our events, and this brings us all a whole new perspective for this type of technology. We can assist our venue partners in salvaging bookings in many cases, allowing those who will not be able to travel, to participate in the events via personal devices, desktops, and Oculus Go headsets, explains Tornquist.
About Artists of the Industry.
AOFTHEI Interactive and Creative is a content activation firm specializing in supporting corporate events, convention centers, hotels and major brands with digital content, creative, software development, and custom platforms, sales, marketing, training internal and external communications needs.