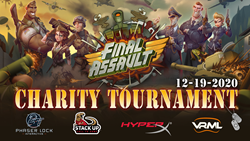 AUSTIN, Texas (PRWEB) December 17, 2020
Austin TX based VR Game Studio Phaser Lock Interactive announced today that they will be hosting a one day charity event with partners VR Master League and Hyper X to support the veterans' charity group Stack Up. The tournament will take place on December 19th, 2020 at 10a PST/1p EST/1800 UTC, featuring well known Virtual Reality personalities competing in Phaser Lock's award winning VR strategy game "Final Assault". All proceeds raised during the event will support Stack Up, a military charity with their ongoing mission to assist veterans' mental health through gaming and other programs.
The tournament, "Final Assault for Charity" is an 8-person swiss-style single elimination brawl, with a mix of VR influencers, professional players, and content creators competing for a share of a $1000 (USD) prize pool and an array of merchandise from Hyper X and the Oculus Quest 2 line. The full slate of competitors includes the following influencers and celebrities:
Alex VR
Reality Check VR
Erik Hartley
Skeeva
GamertagVR
Soul Fox Gaming
SadlyItsBradley
ctrlFlirtDel
"Final Assault for Charity is a project that is very special to our team." said Michael Daubert, CEO of Phaser Lock Interactive. "We know how hard the holidays can be on veterans, and we felt compelled to help out anyway we could. The tournament was one of our team members' ideas, Brad Atkins, who himself is a veteran. The outpouring of support from our fan base, influencers and enthusiasts was incredible. They have helped us take this further then we ever could on our own."
The participants can further assist the cause by signing up for the Stack Up fundraising team, the Phaser Lock Lieutenants. The two (2) participants with the highest funds raised, leading up to the event, will also receive a prize package to keep with the spirit of, 'paying it forward' this holiday season. The tournament will be broadcast by VR Master League on all major streaming services (Iinks below). Viewers will also have a chance to win prizes throughout the event via social media contests thanks to our sponsors at HyperX.
To support or donate please visit the Phaser Lock STACK UP page: https://stackup.donordrive.com/index.cfm?fuseaction=donorDrive.participant&participantID=3584
Tournament Information:
Broadcast Channels
https://www.twitch.tv/vrmasterleague
https://www.youtube.com/channel/UCR5b2CKdpjj_Q-P0tPg5Brg
https://www.facebook.com/VRMasterLeague/live
Final Assault, as featured at the World Cyber games in China in 2019, is a competitive VR Real Time Strategy, pitting players against each other in a World War 2 themed battlefield. Originally published in 2019, Phaser Lock recently released the title globally on PlayStationVR with cross-play this past fall and is excited to host a live holiday event for the title's growing player community.
About Phaser Lock Interactive
Phaser Lock Interactive is a Virtual Reality game studio based in Austin, Texas who aim to create AAA VR games that push the immersive experience and the power of the VR medium. To find out more about Phaser Lock Interactive visit the official site HERE
About StackUp.org
Founded in 2015, Stack Up brings both veterans and civilians together through a shared love of video gaming. Through programs such as The Stacks, Supply Crates, Air Assaults and the Stack Up Overwatch Program [StOP], Stack Up has helped more than 35,900 U.S. and Allied military service members get through deployments to combat zones and recover from traumatic physical and emotional injuries through the power of video gaming. HERE
About VR Master League
Established in early 2017, the VR Master League is a community driven platform powered by the players, for the players, and supporting the most competitive VR games on the market. HERE