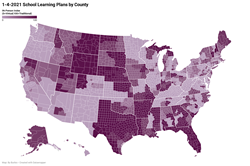 The myriad of regulatory and labor obstacles to in-person learning in places that have never gotten started, the significant level of hybrid instruction across the US, and the unpredictable course of Covid-19 means the balance of the 2021 academic year will continue to be highly disrupted
PELHAM, N.Y. (PRWEB) January 11, 2021
More than 50% of US K-12 students are now attending virtual-only schools across the US according to the most recent audit by Burbio, a data service that measures school and community life across the US. That is the highest figure since late September and reflects a reversal of in-person learning gains that had occurred since Labor Day.
"Since the school year began, districts educating millions of students had converted from 'virtual-only' schooling to teaching students either in a traditional or hybrid format," said Burbio co-founder Julie Roche, noting that as of November 1st Burbio's audit showed 37% of all US K-12 students attending virtual-only schools after having started the year at over 60%. "But that progress has reversed considerably since mid-November due to Covid-19 related shutdowns."
Burbio figures show 55% of US K-12 public students currently attend school districts that offer only virtual learning, while 30.8% attend schools that offer traditional in-person schooling, and 14.2% attend school districts that offer hybrid learning of two to three days a week.
Beginning in mid-November, in-person districts of all sizes across the Midwest and Northeast began closing due to a combination of quarantining, community spread levels, state level directives, and precautions around holiday travel. "Even as districts increased use of testing to ensure schools were safe, and lowered quarantine regulations as CDC guidance changed, many were overwhelmed by the level of Covid-19 spread in their area," added Roche.
Implementation of K-12 education across the US varies and so does the outlook for 2021. States in the Sun Belt and much of the Rockies skew heavily to traditional every-day education and have seen little disruption in the most recent Covid-19 surge. Across the Midwest and the Plains there is a mix of traditional and hybrid learning while, hybrid learning is the preferred form of learning in the Northeast.
The most heavily "virtual-only" regions where only a small percentage of students have been offered instruction in classrooms are West Coast and Mid-Atlantic states as well as urban districts throughout the country. A combination of stricter opening guidelines in the affected states plus stakeholder concerns in urban areas has resulted in slower introduction of in-person learning.
"We expect the percentage of students attending virtual-only schools to drop over the course of the next six weeks as districts who did have students in the classroom in the Fall return after Covid-19 induced breaks," said Roche. "But the myriad of regulatory and labor obstacles to in-person learning in places that have never gotten started, the significant level of hybrid instruction across the US, and the unpredictable course of Covid-19 means the balance of the 2021 academic year will continue to be highly disrupted for the vast majority of K-12 public school students."
####
About the Methodology
Margin for error is 2.73% at 95% confidence level. For detailed methodology visit https://about.burbio.com/methodology/ or email dennis@burbio.com
About Burbio:
Burbio.com is the industry leader in aggregating school, government, library and community event information for digital consumer engagement and business decision making. Burbio's technology organizes and streams millions of hyper-local events across the US and keeps them automatically updated. Burbio works with digital media companies, local broadcasters, and real estate firms providing content for consumer engagement, plus corporate clients and investment professionals who use the better manage and predict their business.