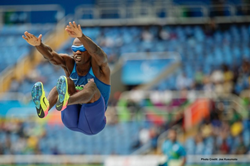 Disabled Sports USA knows all about adapting, adaptive sport is what we do, Disabled Sports USA Executive Director Glenn Merry
ROCKVILLE, Md. (PRWEB) April 21, 2020
Disabled Sports USA launches a first of its kind initiative to engage people with disabilities at home, reducing isolation and improving quality of life. The #AdaptAtHome challenge is engaging thousands of wounded warfighters, youth and adults with disabilities nationwide.
Spring sports season is normally filled with clinics, competitions, regional games, and other adaptive sports programming at the 150 community-based chapters of Disabled Sports USA. COVID-19 has impacted those activities, temporarily shuttering the chapters nationwide.
"Disabled Sports USA knows all about adapting, adaptive sport is what we do," said Disabled Sports USA Executive Director Glenn Merry. So on March 17th, when the State of Maryland began closing business as usual, the organization quickly pivoted its focus to bring those programs and activities to life online.
"Where others see adversity and obstacles, our natural inclination is to find how to adapt around it," Merry said. "We have an office of passionate people, motivated to create opportunities. Within 48 hours, we launched the first ever digital platform to serve our community."
The new platform includes more than 100 live and recorded sport and fitness activities led by adaptive athletes and coaches and designed for people with disabilities. Opportunities range from yoga to strength training, and a lot in between.
The organization has also challenged its athletes to maintain their physical and mental health with #AdaptAtHome Challenge. This program brings people together, through sport, when they can't be together. Athletes film their at home workouts and post to social media, calling out their friends to join in sharing their workouts. A number of U.S. Paralympic athletes, including Snowboarders Brittany Couri, Noah Elliott, Brenna Huckaby, and Nicole Roundy have also participated in the social media challenge.
Other Team USA Paralympians have joined in DSUSA's effort to encourage adaptive athletes to be safe, be active, and be connected. "I think that we as athletes have the ability to adapt and be creative, and those are going to be huge during this time," said Paralympic Silver Medalist and Long Jump World Record Holder Lex Gillette, who is blind. "Training looks different given the recommendations and guidelines in place for our country, but you have to keep moving so you don't go stir crazy. It may be difficult if you have limited space, but the idea here is to try and get some work in, and again, creativity is the name of the game."
Six-Time Paralympic Medalist Dan Cnossen advises everyone to get outside, assuming you are able to do so (check your local jurisdiction for any restrictions). "I love being close to nature. I'm always searching for viable ways for me to get into the woods. It helps keep my sanity" Cnossen said. "Being outside helps with mood, temperament, and outlook. It helps get the blood flowing and increases endorphins. During this challenging time, either start the day, break up the day, or end the day by getting outside."
To learn more about the online resources available during the COVID-19 pandemic, visit https://www.disabledsportsusa.org/adaptathome/.