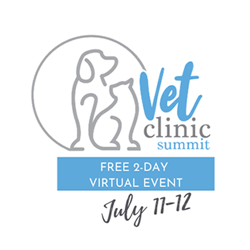 LOUISVILLE, Ky. (PRWEB) July 08, 2020
As many veterinary organizations have postponed or cancelled annual tradeshows due to the current COVID-19 pandemic, Georgian Anesthesia and Avante Animal Health are working together to offer a free, two-day virtual veterinary summit.
The Veterinary Clinic Summit is a free online event will be held July 11-12 and is designed to help veterinarians overcome today's challenges by offering accessible sessions in clinical education, practice management, and more.
Registration for the event is still open, and can be accessed online here: https://www.theveterinarysummit.com/registernow
While clinical education will be a large focus of the event, conference organizers also want to acknowledge and offer specific advice to help jumpstart veterinary practices after closures related to COVID-19.
The Veterinary Clinic Summit is being organized by Georgian Anesthesia and Medical Corp., an Ontario, Canada-based medical equipment company with years of experience in the veterinary industry. The company works with veterinary professionals every day and sought new ways to help them navigate the current business landscape.
"When this pandemic struck and it sent the industry into a spiral, cancelled events, uncertainties, business concerns, we knew that we could help even more by rallying amazing experts to help give clarity, insight and help to bring education to our amazing industry virtually," says a statement from Georgian Anesthesia on the conference website.
The virtual event will host 18 experts from across the veterinary field, who will speak on both clinical and business topics. Scheduled sessions include information on the latest animal health and behavior techniques, veterinary equipment management, and tips for engaging customers and assessing risk during the ongoing COVID-19 pandemic.
Avante Animal Health, a division of Avante Health Solutions, is co-sponsoring the summit.
The Veterinary Clinic Summit is free to attendees who register before July 11, the first day of the conference. Registration for this event will allow access to the 18 speaker sessions and provide veterinary clinicians with takeaways and action steps for advancing veterinary practices during COVID-19 and beyond.