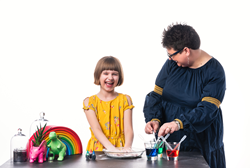 We sincerely hope our virtual programming helps to reduce stress and bring a sense of continuity and comfort to families as they spend quality time together at home.
INDIANAPOLIS (PRWEB) April 02, 2020
The Children's Museum of Indianapolis invites families to explore the world's largest children's museum and enjoy special virtual programming on Thursday, April 2 from 4-5:00 p.m., EST. The fast-paced hour of LIVE fun will feature fitness and virtual learning with museum experts.
What's for dinner? Museum science educator Becky Wolfe and her delightful daughter, M.J., will encourage families and children to work together in the kitchen to create a 'plant cell pizza.' While the pizza is in the oven, a museum actor/interpreter will get families up and moving by demonstrating how to move and groove like a T.rex.
Visitors will continue to shake and bake as the pizza starts bubbling up and Riley Children's Health Sports Legends® Interpretation Programs Coach Derek Richter demonstrates new games and family fitness ideas.
"The Children's Museum of Indianapolis is committed to providing educational and interactive opportunities to help families learn together," said Dr. Jeffrey H. Patchen, president and CEO, The Children's Museum. "Our facility may be temporarily closed but our staff is working hard to bring those unique experiences to families during this unprecedented time as seamlessly as possible through our virtual programming. We sincerely hope it helps to reduce stress and bring a sense of continuity and comfort to families as they spend quality time together at home."
The First Thursday show will also provide important community information about museum benefits for Indiana foster families, and how all families regardless of income can continue to enjoy visits to The Children's Museum when it re-opens.
Those who can't join Thursday's live virtual variety show, can have fun together anytime with Museum at Home. The new program shares science experiment ideas that families can do at home. Figure out how to create unicorn slime, how to dig for dinos with cookies, create fireworks in a glass, dissect a robot, make tie dye paper, dig for fossils with cookies and how to wash hands properly with Glitter Germs. Former Colts Quarterback Andrew Luck joins story time as he reads Larry Gets Lost in the Museum (by John Skewes & Michael Mullin) to his baby daughter Lucy.
Social distancing doesn't have to mean social isolation. Whether you join the Virtual Variety Show live on Thursday evening or watch Museum at Home another time, the museum wishes everyone good health and happy family learning.
First Thursday is presented by Delta Dental of Indiana and supported by Donatos. The Children's Museum of Indianapolis is proud to partner with Riley Children's at Indiana University Health, Old National Bank and Ice Miller LLP.
About The Children's Museum of Indianapolis
The Children's Museum of Indianapolis is a nonprofit institution committed to creating extraordinary family learning experiences across the arts, sciences, and humanities that have the power to transform the lives of children and families. For more information about the tourist attraction and museum, please visit http://www.childrensmuseum.org, follow us on Twitter @TCMIndy, Facebook.com/childrensmuseum and YouTube.com/IndyTCM.