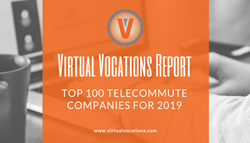 It's an exciting time for remote work. More employers than ever before are creating remote positions. Companies that embrace telecommuting are able to recruit the best of the best in their industries because location is no longer a negative. —Laura Spawn, Virtual Vocations CEO
TUCSON, Ariz. (PRWEB) January 09, 2019
Virtual Vocations' list of the Top 100 Telecommute Companies is the website's third annual report on the employers hiring the most remote workers.
Telecommuting is projected to dominate 2019 hiring trends. "It's an exciting time for remote work. More employers than ever before are creating remote positions. Companies that embrace telecommuting are able to recruit the best of the best in their industries because location is no longer a negative," said Laura Spawn, CEO and co-founder of Virtual Vocations.
From January 1 - December 31, 2018, the Virtual Vocations team compiled statistics on the remote employers they researched and the hundreds of thousands of remote job vacancies they screened. The remote employers included in the Virtual Vocations list of Top 100 Telecommute Companies for 2019 were selected because those companies are the telecommute-friendly employers with the most remote job postings published to the Virtual Vocations Telecommute Jobs Database for 2018.
Among the more than 200,000 telecommute job postings added to the job board last year, the top 100 companies from the report were credited with more than 45,000 remote job postings. These companies filled vacancies for nurses, software developers, customer services representatives, sales personnel, translators, interpreters, programmers, project managers, teachers, speech therapists, analysts, financial consultants, managers, social workers, and more.
Within the report, Virtual Vocations emphasized the top 15 telecommute companies with detailed profiles and grouped the remaining 85 by category. For the first time, a telecommute company bested UnitedHealth Group to rank first on Virtual Vocations' top 100 companies list. The top 15 telecommute companies to watch during 2019 are:
1. CyraCom, LLC
2. UnitedHealth Group
3. K12 Inc.
4. VocoVision
5. Oracle Corporation
6. Kaplan Inc.
7. Sykes Enterprises Incorporated
8. CTS LanguageLink
9. Sunbelt Staffing
10. Syneos Health
11. PRA Health Sciences
12. Stryker
13. ProCare Therapy
14. Humana Inc.
15. ADTRAV Travel Management
Virtual Vocations Employer Partners comprised 10 of the top 100 companies. Employer Partners, like K12 Inc., VocoVision, Amazon, SAP, Aquent, and Upwork Global, are companies who utilize Virtual Vocations' free Employer Partner Program to share their remote job vacancies with Virtual Vocations website members who on average, according to the company's own surveys, are experienced professionals with at least five years of remote work experience and a minimum of a bachelor's degree.
For more information about the Top 100 Telecommute Companies for 2019 list, please visit https://www.virtualvocations.com/blog/telecommuting-news/top-100-telecommute-companies-2019/ or contact Kimberly Back at kim(at)virtualvocations(dot)com.
About Virtual Vocations
Virtual Vocations, Inc. has assisted more than two million individuals in their searches for flexible, telecommute jobs. The company is dedicated to bringing jobseekers expertly researched leads that offer some form of telecommuting or virtual work. Virtual Vocations is a private, family-owned, and 100% virtual company incorporated in Tucson, Arizona.
Kimberly Back
Content Division Manager, Virtual Vocations, Inc.
kim(at)virtualvocations(dot)com
Virtual Vocations—All telecommute jobs. All in one place.