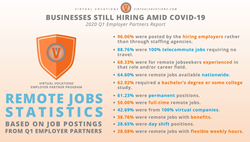 "With many workers experiencing unemployment, and the possibility of future layoffs still unknown, Virtual Vocations is dedicated to providing as much...information to our jobseekers as possible to help them make decisions related to the future of their careers." —Virtual Vocations CEO Laura Spawn
TUCSON, Ariz. (PRWEB) April 30, 2020
In its latest report, one of the web's leading remote job boards is highlighting employers who are still hiring amid the COVID-19 pandemic.
Founded in 2007 by CEO Laura Spawn and CTO Adam Stevenson, Virtual Vocations connects jobseekers with legitimate remote job openings from expert-vetted employers, including several that work directly with the Virtual Vocations team as part of the company's Employer Partner program. In its 2020 Q1 Employer Partners Report, Virtual Vocations puts the spotlight on businesses new to its Employer Partner program in the first quarter of 2020 that are still looking for qualified professionals to add to their remote teams—even in a global health crisis.
"The release of our first quarterly report focused on the hiring trends of businesses we work closely with as partners comes at a time when people need definitive information about which employers are hiring right now," CEO Laura Spawn said. "With many workers experiencing unemployment, and the possibility of future layoffs still unknown, Virtual Vocations is dedicated to providing as much insight and information to our jobseekers as possible to help them make decisions related to the future of their careers."
According to the company's report, Employer Partners shared nearly 6,000 remote job postings on the Virtual Vocations job board in 2019, with members representing fields like information technology, healthcare, and education.
In the first quarter of 2020, more than 88% of jobs posted by Virtual Vocations Employer Partners were fully remote—requiring no travel—and 64.6% were available to jobseekers nationwide. Employer Partners were largely looking for jobseekers to fill permanent positions, according to Virtual Vocations' report, and half of their listings in Q1 were for full-time remote roles.
Virtual Vocations also reported that 42.69% of job listings from its Employer Partners in Q1 were from 100% virtual companies.
"Virtual Vocations considers the timely sharing of this information to be crucial to our mission of helping jobseekers find a job that offers economic and professional stability specifically through working remotely," Spawn said.
Virtual Vocations' top 10 Employer Partners for Q1 of 2020 were as follows:
1. Achieve Test Prep
2. Honey Bar Media, Inc.
3. Uscreen
4. VirBELA
5. K12 Inc.
6. TTEC
7. Railroad19
8. Net Transcripts, Inc.
9. Aviacode, Inc.
10. SpeakWrite
To learn more about Virtual Vocations or view the company's full 2020 Q1 Employer Partners Report, visit: https://www.virtualvocations.com/blog/telecommuting-news/us-jobs-reports/businesses-still-hiring-amid-covid-19-q1-employer-partners-report/
ABOUT VIRTUAL VOCATIONS
Founded in 2007 by CEO Laura Spawn and her brother, CTO Adam Stevenson, Virtual Vocations is a small company with a big mission: to connect jobseekers with legitimate remote job openings. To date, Virtual Vocations has helped more than two million jobseekers in their quests for flexible, remote work.
In addition to providing a database that houses more than 20,000 current, hand-screened remote job openings at any given time, Virtual Vocations offers jobseekers a number of tools to aid in their job searches, including exclusive e-courses and downloadable content, and resumé writing services. Virtual Vocations also releases several data-driven reports each year on current trends in remote work.
Virtual Vocations, Inc. is a private, family-owned, and 100% virtual company incorporated in Tucson, Arizona.
PRESS INQUIRIES
Michelle Rawlings
michelle(at)virtualvocations(dot)com
1 (800) 379-5092 ext. 703
VirtualVocations.com