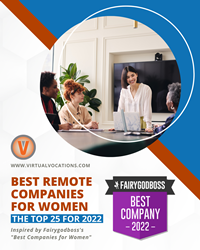 "With remote work, women can design their own futures." –Laura Spawn, CEO and co-founder of Virtual Vocations
TUCSON, Ariz. (PRWEB) November 01, 2022
A new report from Virtual Vocations names the 25 best remote-enabled employers for women.
Founded in 2007, Virtual Vocations is a family-owned, 100% virtual company that has worked to connect jobseekers with legitimate remote job openings from expert-vetted employers for the last 15 years.
For its latest report, Virtual Vocations dug deep into a new analysis from Fairygodboss, which recently examined anonymous employee reviews to determine this year's "Best Companies for Women." Data from the reviews was used by Fairygodboss to rank the companies based on three key scoring factors, including:

Overall job satisfaction;
Perceived gender equality at work; and,
Recommendations to other women about working for their respective employer.
Virtual Vocations' report, released Monday, cites internal data to identify which companies that made this year's list from Fairygodboss have shown not only that they're dedicated to elevating women in the workplace, but also that they're committed to improving flexibility and accessibility through remote work.
"Since the start of the COVID-19 pandemic, we have witnessed a strong increase in the number of jobseekers who want to live and work on their own terms. They strive to find jobs that will not only support themselves and their families but also fuel their lives with purpose," said Virtual Vocations CEO and co-founder Laura Spawn.
"Women do not have to choose between the professional and the personal," Spawn added. "With remote work, women can design their own futures."
Five of the employers featured on Virtual Vocations' new list of the 25 Best Remote Companies for Women were also ranked by Fairygodboss as among their top 10 "Best Companies for Women" in 2022. Those included:

Luxoft Holding, Inc;
Navy Federal Credit Union;
Invitation Homes Inc.;
UKG Inc.; and,
The Hanover Insurance Group, Inc.
According to Spawn, Virtual Vocations' latest report should serve as a "starting point for women who want to work from home and find jobs that reflect their values."
"Fifteen years ago, I launched Virtual Vocations as a mom to three young children. I sought the same professional and personal freedom even more women seek today," Spawn said. "Over the years, my vision became a mission: to provide a platform for remote jobseekers to safely conduct legitimate, flexible job searches."
To see the full list of the top 25 remote-enabled companies for women and learn more about their current all-remote job openings, visit: https://www.virtualvocations.com/blog/telecommuting-news/25-best-remote-companies-for-women/
ABOUT VIRTUAL VOCATIONS
Founded in 2007 by CEO Laura Spawn and her brother, CTO Adam Stevenson, Virtual Vocations is a small company with a big mission: to connect jobseekers with legitimate remote job openings. To date, Virtual Vocations has helped more than four million jobseekers in their quests for flexible, remote work.
In addition to providing a database of current, hand-screened, and 100% remote job openings, Virtual Vocations offers jobseekers a number of tools to aid in their job searches, including exclusive e-courses and downloadable content, and resumé writing services. Virtual Vocations also releases several data-driven reports each year on current trends in remote work.
Virtual Vocations, Inc. is a private, family-owned, and 100% virtual company incorporated in Tucson, Arizona.
PRESS INQUIRIES
Kimberly Back
kim(at)virtualvocations(dot)com
VirtualVocations.com