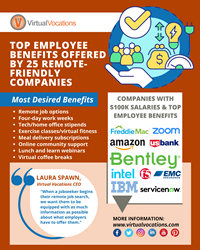 "When a jobseeker begins their remote job search, we want them to be equipped with as much information as possible about what employers have to offer them." –Laura Spawn, CEO and co-founder of Virtual Vocations
TUCSON, Ariz. (PRWEB) December 21, 2022
A new report from Virtual Vocations names 25 employers offering top employee benefits, including retirement pay, medical insurance, health and wellness perks, and work location flexibility.
Released Monday, the employee benefits report cites internal research criteria to highlight in-demand tangible and intangible employer provided benefits. Virtual Vocations screened company contenders based on whether or not they provide the following benefits:

Medical Insurance
Other Insurance (e.g. life insurance, disability insurance)
Retirement & Pay
Health & Wellness
Work Location & Hours
Parental Benefits
Other Benefits (e.g. education reimbursement, employee discounts)
Virtual Vocations hopes its benefits report will fuel jobseekers in their search for employment. "We know jobseekers are already preparing for their interviews by practicing answers to questions and crafting statements about what they can bring to the table, so it is important to our team that jobseekers are applying to work for the right companies—businesses with missions that match jobseeker values and employers who are prepared to recognize and reward worker experience, education, and effort," said Virtual Vocations CEO and co-founder Laura Spawn.
Spawn also noted her wish for employers find this report informative as well, saying, "With this report, we hope to inspire not only jobseekers with options for remote-friendly companies that will provide them with top employee benefits but also employers themselves to offer more benefits and perks that workers want."
According to Virtual Vocations' own survey data, workers have been clear about the benefits they want their employers to provide. Remote work options, four-day work weeks, and technology or home office stipends top the most-desired benefits list among workers. Access to remote work is so highly valued that more than two-fifths (40.19%) of employees working onsite would weigh leaving their current jobs for new companies offering remote options.
The new report also reveals other non-work-related benefits on the minds of employees, where holistic wellness is a top priority. Popular perks professionals would like to see become top employee benefits include exercise classes or virtual fitness programs, meal and food delivery subscriptions, online community support, lunch and learn webinars, and virtual coffee breaks with coworkers.
In addition to employer provided benefits, Virtual Vocations evaluated companies based on the average annual wages they pay out to employees. The 10 best employers for top employee benefits, which also pay average salaries of more than $100,000 per year, are as follows:
1. Freddie Mac
2. Zoom Video Communications, Inc.
3. Amazon
4. U.S. Bank
5. Bentley Systems, Incorporated
6. Intel Corporation
7. F5, Inc.
8. EMC Insurance
9. IBM
10. ServiceNow, Inc.
Virtual Vocations' report also includes bonus company lists giving jobseekers more options for employers to explore during their job searches. The additional lists rank top companies for benefits in conjunction with other factors including remote-friendly companies with the most location flexibility, remote-enabled businesses considered best places to work, and remote companies that are leaders in positive company culture.
To learn more about Virtual Vocations and see the full report on top employee benefits, visit: https://www.virtualvocations.com/blog/annual-statistical-remote-work-reports/top-employee-benefits-25-remote-friendly-companies/
ABOUT VIRTUAL VOCATIONS
Founded in 2007 by CEO Laura Spawn and her brother, CTO Adam Stevenson, Virtual Vocations is a small company with a big mission: to connect jobseekers with legitimate remote job openings. To date, Virtual Vocations has helped more than four million jobseekers in their quests for flexible, remote work.
In addition to providing a database of current, hand-screened, and 100% remote job openings, Virtual Vocations offers jobseekers a number of tools to aid in their job searches, including exclusive career courses, downloadable jobseeker content, and career coaching and resume writing services. Virtual Vocations also releases several data-driven reports each year on current trends in remote work.
Virtual Vocations, Inc. is a private, family-owned, and 100% virtual company incorporated in Tucson, Arizona.
PRESS INQUIRIES
Kimberly Back
kim(at)virtualvocations(dot)com
VirtualVocations.com