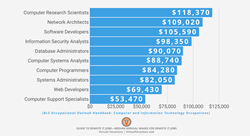 "Professionals seeking to take advantage of high-paying jobs in the field of information technology can use our IT Industry Guide to kick-start their job searches and find positions that provide flexibility and fulfillment." —Virtual Vocations CEO and co-founder Laura Spawn
TUSCON, Ariz. (PRWEB) March 31, 2020
One of the web's leading remote job boards is making it easier for jobseekers to find and land virtual positions in the field of information technology.
Founded in 2007 by CEO Laura Spawn and CTO Adam Stevenson, Virtual Vocations connects jobseekers with expert-vetted remote job openings from thousands of legitimate, remote-enabled employers in over 40 job categories. But over the last several years, one field has stood out among the rest.
Since 2016, IT has been the No. 1 remote job category in the Virtual Vocations database, with more than 70,000 remote IT jobs posted to the company's job board in 2019—and according to the U.S. Bureau of Labor Statistics, the industry is expected to grow as much as 12% through 2028, with nearly 550,000 new IT jobs added.
As the field continues to surge in popularity, more and more professionals are looking for positions that allow them to utilize their IT skills in a meaningful way while enjoying the flexibility that comes with remote work. With this in mind, Virtual Vocations has put together a guide to help make the job search process easier for IT professionals looking for remote roles.
Released this week as part of the company's Telecommute Toolkit, Virtual Vocations' IT Industry Guide provides information on what jobseekers can expect from the field of information technology, including wage data and salary ranges as reported by the U.S. Bureau of Labor Statistics, as well as tips for landing the role, including what core technical skills are needed for IT jobs and how to showcase these skills on a resumé and cover letter.
For jobseekers just getting started, the guide also provides a list of some of the top employers hiring remote IT professionals and offers helpful tips for navigating Virtual Vocations' remote jobs database and setting up email alerts to find relevant roles that align with your skills and qualifications.
"IT professionals are the backbone of nearly every industry, and that's only becoming more true as more companies embrace the remote work model," said Virtual Vocations CEO Laura Spawn. "Professionals seeking to take advantage of high-paying jobs in the field of information technology can use our IT Industry Guide to kick-start their job searches and find positions that provide flexibility and fulfillment."
To learn more about remote jobs in the information technology field or for information about how to download Virtual Vocations' IT Industry Guide, visit https://www.virtualvocations.com/blog/telecommuting-job-search-help/guide-to-remote-it-jobs-jobseeker-resource-and-download/
ABOUT VIRTUAL VOCATIONS
Founded in 2007 by CEO Laura Spawn and her brother, CTO Adam Stevenson, Virtual Vocations is a small company with a big mission: to connect jobseekers with legitimate remote job openings. To date, Virtual Vocations has helped more than two million jobseekers in their quests for flexible, remote work.
In addition to providing a database that houses more than 20,000 current, hand-screened remote job openings at any given time, Virtual Vocations offers jobseekers a number of tools to aid in their job searches, including exclusive e-courses and downloadable content, and resumé writing services. Virtual Vocations also releases several data-driven reports each year on current trends in remote work.
Virtual Vocations, Inc. is a private, family-owned, and 100% virtual company incorporated in Tucson, Arizona.
PRESS INQUIRIES
Michelle Rawlings
michelle(at)virtualvocations(dot)com
1 (800) 379-5092 ext. 703
VirtualVocations.com