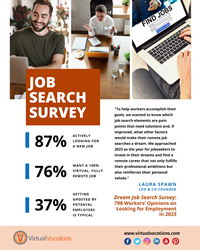 "We approached 2023 as the year for workers to invest in their dreams and find a remote career that not only fulfills their professional ambitions but also reinforces their personal values." –Laura Spawn, CEO and co-founder of Virtual Vocations
TUCSON, Ariz. (PRWEB) February 15, 2023
The latest report from Virtual Vocations—a leading fully remote job board—gives insight into the job search process from the employee's perspective.
Nearly nine out of 10 workers plan to actively search for a new job in 2023, but they are not necessarily looking forward to the job search process. Details of frustrations professionals experience while pursuing employment opportunities are found in a new report on Virtual Vocations' "Make Your Job Search a Dream" survey. The survey was available to Virtual Vocations site members, as well as the general public, from January 1—10, 2023. During this period, 798 professionals completed the survey, sharing their opinions on the job search process and what it is like undertaking an employment search nearly three years after the start of the COVID-19 pandemic.
Key Findings from Virtual Vocations' Dream Job Search Survey

More than 54% of professionals use online resources, like job boards and social media sites, to find jobs.
Jobseekers look least often to career fairs and hiring events, headhunters, and networking contacts during their job searches.
Approximately 76% of workers are in the market for a 100% virtual, fully remote position.
During the job search process, nearly four in 10 professionals say getting ghosted is typical; in fact, never hearing back from an employer or hiring manager is named as the top job search pain point, ahead of job scams and the overall length of an employment search.
Almost one-fifth of professionals spend upwards of an hour applying to a single job posting and report feeling uncertain about how to narrow down the right jobs for their skills and experience.
Workers also wish certain job posting elements could be presented more clearly. Compensation amounts, details on the level of flexibility, including remote job options, available with a role, and an accurate job description top the list of most desired improvements workers want to see when they review job postings.
Professionals are also aware of a lack of responsiveness to their applications. Despite recent job market stressors, such as the COVID-19 pandemic, 'Great Resignation' movement, and employer cries of hiring shortages, 80% of workers saw no change in responsiveness to their job applications.
According to workers in 2023, they would rather receive any correspondence from a potential employer or hiring manager—even to say they failed to advance in the hiring process.
When designing the survey, Virtual Vocations kept jobseekers' unique experiences in mind. "To help workers accomplish their goals, we wanted to know which job search elements are pain points that need solutions and, if improved, what other factors would make their remote job searches a dream," said Virtual Vocations CEO and Co-founder Laura Spawn. She continued, "We approached 2023 as the year for jobseekers to invest in their dreams and find a remote career that not only fulfills their professional ambitions but also reinforces their personal values."
To see Virtual Vocations' full 2023 Dream Job Search Survey report, visit: https://www.virtualvocations.com/blog/annual-statistical-remote-work-reports/dream-job-search-survey-798-workers-opinions-employment-2023/
ABOUT VIRTUAL VOCATIONS
Founded in 2007 by CEO Laura Spawn and her brother, CTO Adam Stevenson, Virtual Vocations is a small company with a big mission: to connect jobseekers with legitimate remote job openings. To date, Virtual Vocations has helped more than four million jobseekers in their quests for flexible, remote work.
In addition to providing a database of current, hand-screened, and 100% remote job openings, Virtual Vocations offers jobseekers a number of tools to aid in their job searches, including exclusive career courses, downloadable jobseeker content, and career coaching and resume writing services. Virtual Vocations also releases several data-driven reports each year on current trends in remote work.
Virtual Vocations, Inc. is a private, family-owned, and 100% virtual company incorporated in Tucson, Arizona.
PRESS INQUIRIES
Kimberly Back
kim(at)virtualvocations(dot)com
VirtualVocations.com