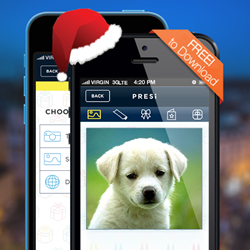 We see the launch of PRESi as the launch of the world's greatest gift into the app-mosphere
Sydney, NSW (PRWEB) November 08, 2013
The international launch of PRESi on 6 November 2013, heralds a new era in online shopping. PRESi is the unique and exciting virtual gifting app that is designed to quickly and easily facilitate the act of giving real presents in a virtual world.
As Founder and PRESident, Mr Grant Collins, explains, "PRESi stands for Presents Received Electronically or Sent via the Internet and represents the concept of mobile gifting. It allows smartphone users to complete the entire shopping and 3D gifting experience all in one simple process."
"Online shopping is huge! But there's a big gap in the market – Online Delivery. PRESi lets you send gifts to anyone globally with your choice of wrapping and personal message and your recipient can receive it, unwrap it and enjoy their gift, instantly."
"The potential gift is almost unlimited; PRESi could be used to shop and pay online for a retail shopping voucher, an adventurous experience (such as those on redballoon.com.au), or even a night out at a restaurant (via the restaurant of their choice or via Groupon or other daily deal sites)."
The world-first app also incorporates a social media function which dove-tails directly into Facebook, allowing the user to pull all their Facebook contacts into PRESi and keep track of birthdays whilst giving real presents.
Developed by Melbourne based Mobile App Developer Buzinga, the PRESi app was already been nominated for the Universal Design Awards earlier in 2013.
Mr Collins believes that the demand for this mobile gifting app is already high, as shoppers world-wide look for ways to ease the increasing pressures on their time.
He explains this rationale further, saying "Paying electronically for goods and services using e-Commerce is only one part of the equation as traditional delivery methods still take time."
"We identified that people now need 'i-Commerce' - the immediate, instant complete transactions between family and friends around the world. This led to the creation of the groundbreaking PRESi app."
PRESi's founder has also infused his passion for philanthropy into this project. Known as 'the app that gives back", PRESi is the first of its kind, with a percentage of profits to be gifted to selected charitable causes.
"We see the launch of PRESi as the launch of the world's greatest gift into the app-mosphere", exclaims Mr Collins, "And the best part about it is that the app is free to download."
"We are excited to give smartphone users across the globe the opportunity to relax and enjoy stress-free Christmas and birthday shopping. With PRESi, virtual gift giving has never been so easy."
About PRESi
Founded on 5 April 2012, in Sydney, Australia, PRESi is an innovative company led by Founder and PRESident Grant Collins.
With skills drawn from all corners of Australia, Grant Collins partnered with the Melbourne based Mobile App Developer Buzinga to develop the unique PRESi app, which he predicts will be the world's most successful virtual gifting app.