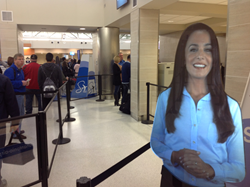 AVA works 24 hours a day, doesn't charge overtime, and never takes a break. AVA is next generation technologly that projects a holographic mannequin that looks and sounds like a real person
Plant City, Florida (PRWEB) December 04, 2014
The future is here. AVA, the airport virtual assistant, is a holographic presenter now on the job at San Antonio International Airport. She works 24 hours a day, doesn't charge overtime, and never takes a break. AVA is next generation technologly that projects a holographic mannequin that looks and sounds like a real person. In fact, she is so real that most people need to do a double take before they realize that AVA is really not real. Even when passengers figure out she is plastic -- they still listen to her important messages designed to speed up security screening.
The City of San Antonio contracted with Airus Media, Inc. of Plant City, Florida to produce, manufacture, and install two airport virtual assistant (AVA) units to assist with passenger security screening. Recently installed, the two avatars are now on the job and have been affectionately named "EVA" by the City.
As reported by CNN, the two units are essentially bi-lingual avatars of security screening agents, providing general and TSA pre-check security screening messages, in both English and Spanish, to facilitate and expedite security screening at San Antonio International Airport. This is the first known installation of an avatar for use in TSA pre-check security screening.
The specific objective of the program is to deliver a clear and consistent message that prompts passengers to prepare for security, prior to reaching the security screening point, thus expediting the security screening process for passengers and freeing up TSA staff for more important tasks.
AVA was created by Airus Media, Inc. (formally doing business as airportONE.com). According to Patrick Bienvenu, CEO, AVA was created to disseminate information clearly, consistently, and with the impact necessary to achieve the desired result.
Depending upon the use of AVA, that result may simply be the recipients understanding of a particular message, or an experience that results in the purchase of a particular product or service. In addition to delivering a clear and consistent message, AVA is an incredible advertising tool that literally "stops people dead in their tracks". Applications for AVA range from health care to advertising and public guidance.
According to Bienvenu, producing and manufacturing AVA is a complex process involving high end videography, digital engineering, computer programming, graphics, and manufacturing. "Its very new technology that uses Casio Lamp Free Projectors which can work 24/7 for up to 20,000 hours. That means essentially no maintenance." AVA actually looks real … much more lifelike than a traditional hologram. Bienvenu says that the process is truly an art in that it takes creativity and an artistic ability to make AVA look like a real person. In addition to San Antonio International Airport, Airus Media has produced and manufactured virtual assistants for numerous airport installations including Long Beach, Northwest Florida, Laguardia, JFK, and Newark Liberty International Airports. Also, Airus Media recently finished installation of 5 AVA units for the Department of Defense at 5 military installations throughout the US. Airus Media is the creator of AVA and the premiere producer of interactive virtual assistants worldwide. Visit http://www.AirusMedia.com for more information.