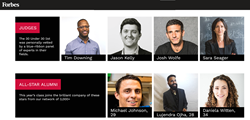 It has been incredible to see this mission statement come to life and in a short period of time improve several drug discovery programs as well as bring to market one of first clinical machine learning digital pathology platforms
(PRWEB) November 20, 2018
Each year Forbes receives thousands of nominations for candidates wishing to be selected for its annual 30 Under 30 list which highlights outstanding performance by individuals under 30 years of age. The Forbes 30 Under 30 list showcases the top 30 individuals in a wide range of fields from Sports and Entertainment to Venture Capital and Science.
In 2017, Visikol CEO Dr. Michael Johnson was named to the Forbes 30 Under 30 list in the field of Science just after his 27th birthday. Between 2017 and today, Dr. Johnson along with fellow Co-Founder Dr. Tom Villani have taken Visikol from a Rutgers University spin-out to a robust contract research organization business that now provides advanced drug discovery services to the world's leading pharmaceutical and biotechnology companies. It is due to Visikol's rapid success and significant market traction that Dr. Johnson was again recognized by Forbes this year on their 2019 30 Under 30 list by being selected among all of the previous year's honorees as one of the top three all star alumni.
In reflecting on the company's maturation, Dr. Johnson explains, "From the inception of our company we always had a very clear mission statement which was to develop tools and services to transform tissues into quantitative data sets that could be used to better inform the drug discovery process as well as one day clinical diagnosis. It has been incredible to see this mission statement come to life and in a short period of time improve several drug discovery programs as well as bring to market one of first clinical machine learning digital pathology platforms with Enzyvant Therapeutics."
To live up to this mission statement, Visikol has placed a large focus on developing not only advanced imaging techniques for acquiring more complete data sets from tissues, but also a suite of digital pathology, machine learning and informatic tools. Combined, this suite of technologies allows Visikol to generate huge quantities of data from tissues and convert the data into simple and easy-to-interpret reports so that pharmaceutical clients can easily make more informed decisions about their drug discovery programs.
Today, Visikol acts primarily as a contract research organization with a specialty in 3D tissue imaging via confocal or light sheet microscopy, digital pathology, 3D cell culture assays, high content screening and custom drug discovery projects. Visikol's clients work with them in several different ways from sending compounds or antibodies for end-to-end in vitro or in vivo testing to sending histology glass slides for slide scanning and unbiased machine learning analysis.
In describing what makes Visikol successful, Dr. Johnson explains, "There is huge opportunity to disrupt the pathology and imaging fields which we are taking advantage of through providing a quantitative approach to studying tissues. As we grow over the next few years, we are going to continue to develop our technology platform as well as integrate cutting-edge technologies that allow us to offer enhanced services to our clients"
About Visikol
Visikol is a contract research organization that is focused on accelerating drug discovery through the transformation of tissues into actionable and quantitative insights. Visikol is comprised of experts in imaging, digital pathology, machine learning and advanced in vitro models. The company leverages this expertise along with a portfolio of proprietary imaging and image analysis technologies to offer pharmaceutical/biotech companies 3D cell culture assays, digital pathology services, 3D tissue imaging services, high content screening and customized drug discovery solutions. Visikol partners closely with clients in drug discovery efforts and to assist them with using innovative assays for drug screening that are more rapid, reliable, and relevant for screening. In addition to this service offering, Visikol also sells various tissue clearing reagents and kits for researchers that are interested in adopting 3D tissue imaging into their own workflows. For more information about Visikol or its services, please visit our website at visikol.com.