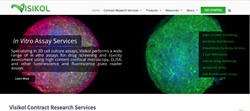 Our Clients see us as a leader in imaging, image analysis and advanced in vitro biology
WHITEHOUSE, N.J. (PRWEB) February 26, 2019
The idea for Visikol began originally at Rutgers University in 2012 when Visikol Co-Founder Dr. Thomas Villani developed the Visikol® tissue clearing technology for improved tissue characterization. From this initial idea, Visikol emerged as a company and has since transitioned from a products focused company to primarily a services focused company.
Today, Visikol operates as a contract research organization with a distinct expertise in 3D cell culture assays, 3D cell culture models, 3D tissue imaging, digital pathology and custom drug discovery projects. The focus of the company is to help pharmaceutical companies accelerate their drug discovery and development efforts through the quantitative analysis of tissues and leveraging advanced in vitro systems. "Our Clients see us as a leader in imaging, image analysis and advanced in vitro biology. With our agnostic approach to diseases, tissues and models, we work on a very wide range of projects from high content screening to end-to-end animal studies," described Visikol Chief Science Officer Dr. Tom Villani.
The launch of the new Visikol website is designed to better showcase its unique service offering and capabilities which span from simple slide scanning and plate reading to large scale screening assays, 21 CFR part 11 compliant machine learning applications and customized organoid models. "When many people think of Visikol they think of our tissue clearing reagents and kits which have been used by over 500 research labs from around the world. However, while we still sell these reagents and use them in some of our Client projects, the focus of our company is now primarily on our services and providing pharmaceutical companies with best-in-class services. Over the last year we have greatly expanded our service offering and want to better showcase these assays and capabilities to our potential Clients," explained Visikol Chief Executive Officer Dr. Michael Johnson.
In 2019 Visikol will continue to build out its service offering and will continue to push the envelope on transforming tissues into actionable insights for its Clients.
About Visikol
Visikol is a CRO focused on advanced drug discovery that is leading the fields of bio-imaging, bioinformatics and image analysis. We conduct end-to-end drug discovery services that include both 2D and 3D in vitro models and assays, 3D whole mount tissue imaging, digital pathology and custom drug discovery projects. Visikol offers a portfolio of drug discovery services ranging from 2D and 3D cell culture model and assay development to in vitro screening, animal tissue histology and automated image processing. The focus of these services is to transform tissues into images and ultimately into quantitative data sets that can be mined for actionable insights that help our Clients make more informed decisions during the drug discovery process. Additionally, Visikol manufactures and sells a suite of tissue clearing reagents and 3D immuno-labeling kits. These products allow researchers to easily and rapidly image whole tissues and 3D cell culture models in 3D instead of traditional 2D sectioning. For more information about Visikol or its services, please visit our website at visikol.com.