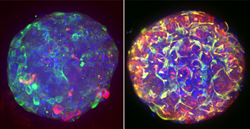 We see our application specific approach to 3D cell culture assays as essential in minimizing cost while maximizing throughput.
WHITEHOUSE, N.J. (PRWEB) January 30, 2019
The Society for Laboratory Automation and Screening conference brings together experts from pharma, academia and governmental agencies to discuss best practices for laboratory automation and screening. This year the conference will be held in Washington, DC from February 4-6.
At this year's conference, Visikol will be at booth #345 and throughout the conference will highlight its unique service offering through a suite of talks and poster sessions. Visikol was originally founded to commercialize novel imaging technologies and has since evolved into a leading contract research organization in the fields of advanced imaging, 3D cell culture assays and digital pathology. At SLAS, Visikol will specifically focus on showcasing its 3D cell culture services which have become very popular in the last few years as researchers shift their efforts to in vitro models with improved in vivo relevancy.
"We are excited by the growth of this space and see ourselves as having the most comprehensive offering of 3D cell culture assays in the market as we can provide simple and routine assay end-points as well as the highest quality 3D imaging and analysis endpoints possible through the use of our patented Visikol® HISTO-M™ technology and proprietary image analysis tools," described Visikol CEO Dr. Michael Johnson. In this field, Visikol has taken a unique approach to partnering with Client's wherein they have adopted an application specific approach such that each research question is paired with a specific type of model and assay end-point. "We see our application specific approach to 3D cell culture assays as essential in minimizing cost while maximizing throughput and ensuring that a model has an appropriate degree of in vivo relevancy," explains Visikol CSO Dr. Tom Villani.
At SLAS, the Visikol team will discuss its 3D cell culture assay services and will describe in detail its immune cell infiltration assay as well as its antibody penetration assay through separate talks. In addition to these talks, Visikol's Director of In Vitro Studies, Dr. Erin Edwards will discuss Visikol's OpenLiver™ initiative for developing open source liver 3D cell culture models. For the details on all three of the talks see below or pickup more info at the Visikol booth.

Visikol Solutions Spotlight: High Content 3D Cell Culture Immune Cell Infiltration Assessment: Many pharmaceutical companies are now focused on turning the immune system against cancer and developing novel immune-oncology therapeutics. In 2018, a major area of focus for Visikol was assisting pharmaceutical companies in developing 3D cell culture in vitro systems for quantifying immune cell infiltration into solid tumor models. This session highlighting immuno oncology in vitro assays will be on 2/4/19 from 3:30 – 3:50 pm in the exhibitor theatre and will be hosted by Visikol's Chief Science Officer Dr. Tom Villani.
Visikol Solutions Spotlight: Building Consensus in the Liver 3D Cell Culture Model Space Through Open Source Models: While Visikol works with many Clients to develop novel cancer 3D cell culture models, most researchers assessing drug induced liver injury (DILI) and other liver pathologies are interested in standardized and validated models. To help address this need, Visikol has launched its OpenLiver™ initiative which is aimed at providing researchers with standardized open source models for specific research questions in order to optimize cost, complexity, validation and throughput. This session highlighting liver 3D cell culture models will be on 2/5/19 10:30 – 10:50 am in the exhibitor theatre and will be hosted by Visikol's Director of In Vitro Studies Dr. Erin Edwards.
Podium Presentation: High Throughput Measurement of Antibody Drug Pharmacokinetics Using 3D Cell Culture Models. This session will take place on 2/5/2019 from 11:00 – 11:30 am and will be presented by Visikol's Chief Science Officer Dr. Tom Villani.
About Visikol
Visikol is a CRO focused on advanced drug discovery that is leading the field of bio-imaging, bioinformatics and image analysis. We conduct end-to-end drug discovery services that include both 2D and 3D in vitro models and assays, 3D whole mount tissue imaging, digital pathology and custom drug discovery projects. Visikol offers a portfolio of drug discovery services ranging from 2D and 3D cell culture model and assay development to in vitro screening, animal tissue histology and automated image processing. The focus of these services is to transform tissues into images and ultimately into quantitative data sets that can be mined for actionable insights that help our Clients make more informed decisions during the drug discovery process. Additionally, Visikol manufactures and sells a suite of tissue clearing reagents and 3D immuno-labeling kits. These products allow researchers to easily and rapidly image whole tissues and 3D cell culture models in 3D instead of traditional 2D sectioning. For more information about Visikol or its services, please visit our website at visikol.com.