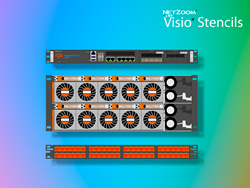 Our collection of Visio Shapes has been the standard among IT professionals for network and audio-video diagramming since 1995
Chicago, Illinois (PRWEB) August 29, 2017
Altima Technologies, Inc., the maker of popular NetZoom Visio Stencils Device Library for documenting and diagramming network and data center assets and audio-video devices has recently updated its Visio Stencils library with new devices.
NetZoom subscribers can request new equipment shapes for free and download shapes and stencils from http://www.VisioStencils.com.
New devices were added to the following product lines:
IBM – Power 6 Series
Hewlett Packard – StorageWorks
MRV Communications – OptiSwitch
NetApp – FAS Series
Opengear International – CM7100 Console Server
Schneider – PowerLogic
Palo Alto – PA-800 Series
Alcatel-Lucent – Nuage 7850
Panduit – NetKey
EMC – VMAX
Used for documenting data center and audio-video assets, designing rack elevations and tracking data center equipment, NetZoom Visio Stencils is the largest collection of manufacturer-specific stencils used with Microsoft® Visio by IT and A/V professionals.
"Our collection of Visio Shapes has been the standard among IT professionals for network and audio-video diagramming since 1995." says Wayne Baker, Sales Manager of Altima Technologies, Inc.
NetZoom Visio Stencils is the world's largest library of device stencils used by over 250,000 professionals worldwide. The Device Library includes device stencils for racks, servers, network, telecom, audio, video, security and infrastructure devices. The Device Library is updated weekly with customer shape requests.
NetZoom Visio Stencils are used to:

Diagram physical networks and data centers
Diagram rack elevations
Create logical network diagrams using generic icons and symbols
Create Audio-Video network diagrams
Availability
NetZoom Visio Stencils is immediately available on a subscription basis and allows customers to request development of new shapes at no additional cost. For more information visit VisioStencils.com
About Altima Technologies
Founded in 1995, Altima Technologies, Inc. is an Illinois corporation with headquarters in the Chicago area. Altima has been providing software solutions for data center asset management, monitoring and optimization since 2000. Altima's software solutions are in use by more than 100,000 data centers worldwide. Its flagship product, NetZoomDC Enterprise, is a DCIM solution designed to manage physical and virtual infrastructure, power and environmental data and enable visualization and optimization of the data center capacity within a single pane of glass. NetZoomDC is used by leading global companies across all industries including financial, government, health, energy, manufacturing, travel, education, research, and IT.
Altima Technologies, Inc. celebrates over 20 years as a leading provider of data center software solutions.
Press Contact
Marketing Manager
2300 Cabot Drive, Suite 535
Lisle, IL 60532 USA
Phone: 630.281.6464
Email: Info(at)AltimaTech(dot)com
Altima Technologies, NetZoom, NetZoom Pro, and NetZoomDC are all registered trademarks or trademarks of Altima Technologies, Inc. All others are registered trademarks or trademarks of their respective owners.