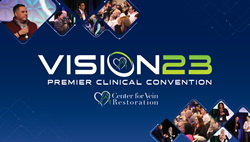 "Fame is what we do for ourselves. Greatness is what we do for others." –Gian Paul Gonzalez
GREENBELT, Md. (PRWEB) February 10, 2023
Center for Vein Restoration (CVR), the nation's leader in the diagnosis and treatment of venous insufficiency (vein disease), concluded its annual VISION conference on Saturday, February 4, with climactic and heartfelt recognitions of prominent physicians in the field of venous study. Led by CVR's President & CEO, Sanjiv Lakhanpal, MD, FACS, and CMO, Khanh Nguyen, DO, RPVI, the emotional crescendo was a fitting end to the three-day event punctuated by the enthusiastic motto "ALL IN!"
Dubbed "the Premier Clinical Convention," VISION 2023 was the fifth gathering of this "who's who" in the study of venous medicine. As the global leader in medical compression, medi® was the event's premier sponsor, supporting the welcome reception, presenting an empowering overview of their work addressing lymphedema globally, and providing education about the latest comprehensive therapy solutions that help people feel better.
Over 300 attendees were treated to an inspiring Friday kickoff by keynote speaker Gian Paul Gonzalez, who became famous after his "ALL IN" rally cry led the 2011 New York Giants to their Super Bowl victory. Mr. Gonzalez passionately challenged attendees to apply this same commitment to goals, despite the obstacles, to achieve an ALL IN lifestyle.
An additional 300 virtual attendees joined the five Saturday clinical sessions, which included topics such as the management of superficial venous disease, updates on venous ulcer management, multi-disciplinary approach to lymphedema, pelvic venous insufficiency and iliofemoral DVTs, and the management of pelvic venous disorders. Non-clinical attendees partook in day-long programming around the patient experience, navigating telehealth, the power of appreciation, and more.
Awards and Accolades: 2022 Recognitions
Friday evening's dinner and awards ceremony, sponsored by medi, paid tribute to CVR's own and included the following:

2022 Top Newcomer: Salisbury, MD
2022 Top Center: Lakewood, NJ
2022 Top Region: Michigan West
2022 Top Engaged Physician: Vinay Satwah, DO, RPVI
2022 Top Physician Liaison: Nina Soto
2022 Top IT Professional: Gerson Lopez
2022 Top Patient Services Agent: Joanne Ganz
2022 Top Revenue Cycle Management Team Member: Griselda Rodriguez
2022 Unsung Hero: Brian Rumble
2022 Top Department: IT
2022 Top Director: Betelhem Worku
Presidents & Sushruta Awards
Saturday evening's programming included the presentation of CVR's most prestigious awards. First, Dr. Lakhanpal presented the Lakhanpal Vein Foundation Sushruta Award to Anthony J. Comerota, MD, a board-certified vascular surgeon and the Medical Director of the Eastern Region Heart and Vascular Institute. The Sushruta Award is given to a physician who embodies the values of the ancient Indian physician and father of surgery. These values include Brilliance, Boldness, Propagation of Knowledge, Collaboration & Teamwork, and a Holistic Approach.
The evening concluded with the President's Award, bestowed to the physician who goes above and beyond in their commitment to venous medicine and contributions to CVR. Presented during an emotional address, Dr. Nguyen expressed profound gratitude to two physicians who, by taking a leap of faith, joined CVR early in its inception and were instrumental in growing CVR into the industry leader it is today. These physicians are:
Eddie A. Fernandez, MD, RPVI, Maryland South Regional Medical Director, lead physician at CVR's North Bethesda/Rockville, MD, and Silver Spring, MD, vein clinic locations.
Sean K. Stewart, MD, MS, Maryland North Regional Medical Director, lead physician at CVR's Annapolis, MD, and Columbia Parkway, MD, vein clinic locations.
Center for Vein Restoration: A History
Established in 2007 by world-renowned and respected cardiovascular and thoracic surgeon Sanjiv Lakhanpal, MD, FACS, CVR exists to provide venous health care that radically improves lives. Dr. Lakhanpal envisioned providing safe, personalized, and positive treatment for a woefully underserved population suffering from venous insufficiency (vein disease).
Dr. Lakhanpal began CVR by caring for approximately 100 patients from a single Washington, DC, vein clinic. Since then, CVR has expanded to 110+ locations (and growing), with 70+ board-certified physicians in twenty-two states and the District of Columbia, impacting the lives of over 250,000 patients annually.
For more information, call 800-FIX-LEGS (800-349-5347).
CVR's Mission
To improve lives in the communities we serve by providing state-of-the-art vascular care in a compassionate and affordable manner.