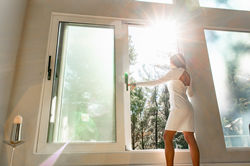 Contact:Freddy TuncelOwner/OperatorVision Art Aluminumhttps://www.visionartaluminium.com/646-270-8983201-366-4699info@visionartaluminum.com
NORTH BERGEN, N.J. (PRWEB) January 23, 2023
Vision Art Aluminum has announced 2022 was a stellar year for their company in North Bergen, New Jersey. Because of their company's success, they will refocus on their previous goals and expand on them and continue to build 2023 into another banner year.
The company is located at 125 Broad Avenue, Unit C20, North Bergen, New Jersey, 07047 where Vision Art Aluminum created a stunning showroom which is among their accomplishments for 2022.  On display to the public are myriad examples of their high quality, custom made aluminum windows and doors. Prospective customers now have the opportunity to slide dual pane windows and walls of doors testing the products ease of usability prior to ordering.
Owner / operator Freddy Tuncel has made public statements about his company's pledges, i.e.: "WE CHANGE LIVES" through a "T(ogether) E(veryone) A(ccomplishes) M(ore)" through an effort to build community.
Tuncel has arranged financing for his company's customers who are qualified with zero interest available to the community for 60 months for homeowners with energy conservation and climate change in mind regarding home improvements.
He shared his concerns over inflation's role on the home improvement market saying, "This is no time to stop those home owners who want to do capital improvements saving precious dollars and earth's vulnerable atmosphere, generate jobs and do their part to combat climate change. Our precious and endangered planet and, most of all, our children's future is at risk. Helen Keller once said:  'Alone we can do so little; together we can do so much.'  We all need to embrace that zeitgeist…not tomorrow; we can't wait, but today."
In 2022, Vision Art Aluminum enhanced their community profile by becoming a member of the North Bergen Chamber of Commerce and the Better Business Bureau, a somewhat rare move for a contractor.
Also during 2022, Vision Art Aluminum discounted many of their popular sliding glass doors for do-it-yourselfers in North Jersey and posted YouTube videos with "how to" installations with climate change and conserving energy with its increasing costs in mind.
Several times, Vision Art Aluminum pointed out their sensitivity to children and the handicapped by stating they design and build with awareness of special needs family members.
As an example, a company spokeswoman pointed out the dangers of venetian blinds and urged parents to consider hundreds of kids and pets die every year across the world because of entanglement in blind chords. She said, "Vision Art Aluminum always inquires about all the members of a family for special needs. Our mantra is WE CHANGE LIVES and we strive for sensitivity for all members of the family including the elderly. If a family contains a shut in, a picture window can change their life. Also, we advocate that parents carefully consider our doors and windows with blinds custom built between the energy saving double pane windows. Those blinds are remotely controlled and chords are safeguarded in between the glass."
Vision Art Aluminum also introduced a new door style in 2022. The "slim-slide" sliding glass door was introduced in New Jersey featuring more energy conserving glass and a wider outdoor view with less of an aluminum frame. The company proudly boasts a breakthrough in engineering while increasing the view of outdoors for customers. A consistent theme for Vision Art Aluminum appears clear, they build products, apparently, to contribute to the effort to save Earth, improves people's lives, safeguard children and animals and the planet itself, and, therefore, enhancing lifestyles with the future in mind.
Additionally, Vision Art Aluminum expanded the sizes of aluminum windows and doors available to home-owners and businesses this past year manufacturing enormous sizes not available previously in New Jersey. Vision Art Aluminum can easily manufacture a wall of windows or doors for customers in excess of 25 feet+.
Because Vision Art Aluminum's team makes good on reliability, expertise, availability, and they custom design and craft every sunroom and pergola using the best materials available. Every single job is custom designed and custom created using the best materials as well as the most technologically advanced products in the world.
The spokeswoman shared the goals of Vision Art Aluminum. They are mantras she says that are in place and she says grow each day. She points out, "These philosophies have not been present in any contracting business I am aware of. We apply them to our everyday work ethic. Vision Art Aluminum produces spectacular work, it reaches customers at their map of the world and produces practical art for living in a home with increasing value, one that's safe, convenient, artistic and beautifully built for today's busy, growing, modern families."
"Vision Art Aluminum urges interested parties to read the quality of all of our 5 star Google reviews for a peek inside a dynamic, deep, progressive, aware, sensitive and yet an old fashioned, principled organization. We're hoping to lead the way to a better business ethic where people, quality, customer care and old fashioned European craftsmanship counts."
"Also, we suggest you visit our showroom and have a complimentary consultation and see for yourself our products that will be customized for your specific needs and used in your design. Please consider booking an appointment for our undivided attention. Our business is less about us and more about customers and community, improving people's lives, building on trust by rendering spectacular work. Our work is sheer artistry and artfully displayed in video and in person. Through trust, high quality custom products and customized work, we make living in New Jersey better for our community."