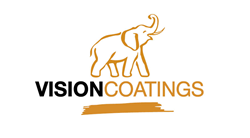 We are thrilled to welcome Colour Vision into our family and look forward to a prosperous future together. - Tony Margiotta, President - Vision Coatings Limited
WOODBRIDGE, Ontario (PRWEB) March 13, 2019
Vision Coatings Limited (Vision Coatings), a leading provider of coating and finishing services for the fenestration industry, announced today the recent acquisition of Colour Vision Coating Inc. (Colour Vision). The addition of Colour Vision's team of industry-leading paint experts into Vision Coatings at its new location will allow the company to meet the strong and growing demand for its services.
Colour Vision Coating Inc., founded in 2014, was a well-known building product paint business serving window and door manufacturers, and many large extrusion companies located in and around Woodbridge, Ontario. Colour Vision had cultivated a dedicated customer base during its five years in business, in large part thanks to a core team of eight professional applicators with a combined experience exceeding 100 years within the industry. Though the company in its recent form had operated since 2014, the team at Colour Vision worked together as a single unit for 17 years.
"Colour Vision's expert staff, solid reputation, and established customer base are what attracted us most to them," said Tony Margiotta, President of Vision Coatings Limited. "We were reaching the limits of our paint production capacity given a shortage of specialized coating people on the market, and the fact we already had most of that talent. At the same time, Colour Vision was nearing the limits of its physical storage and production space, making it a natural fit to bring their team into our new 50,000 sq. ft. facility. We are thrilled to welcome Colour Vision into our family and look forward to a prosperous future together."
The official acquisition finalized near the end of last year, and the Colour Vision team was brought on and have been working alongside the Vision Coatings team since the beginning of January. With both companies located close to each other in the Woodbridge area – home to one of the largest extrusion industry clusters in North America – the transition has been an easy and expeditious one. Barely a month into 2019, the combined teams had already broken production records for Vision Coatings.
According to Bernice Martin, former President of Colour Vision Coating Inc., "I think the timing for this transition worked out perfectly for both companies. I've worked closely with the Vision Group of Companies in the past, so I knew our cultures would align well together." Martin will stay on with Vision Coatings in a role focused on helping "fast-track" the new company's growth by leveraging her many years of experience and industry relationships.
About Vision Coatings Limited
Established in 2018, Vision Coatings Limited is the newest member of the growing Vision Group of Companies. We provide advanced coating and finishing services for extrusion companies, window fabricators, and others in the fenestration industry. Vision Coatings offers a wide range of colours, dimensions and run sizes in our 50,000 sq. ft. facility in Woodbridge, Ontario. Equipped with our industry-leading UV ToughCoat system, and a 2,000 sq. ft. traditional paint shop, our quality coatings meet AAMA 615 certification standards – the highest industry rating possible. Our mission to help our clients and partners deliver superior quality products to their customers, in less time.