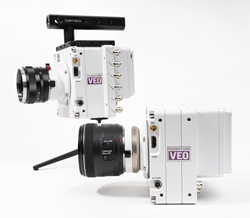 Designed for research, defense, and industrial applications, the VEO 1310 uses a proprietary, 12-bit CMOS sensor to deliver the latest imaging technology in a compact, durable package.
WAYNE, N.J. (PRWEB) February 04, 2020
Vision Research, a leading manufacturer of digital high-speed imaging systems, introduces the Phantom® VEO 1310 — the latest addition to the trusted Phantom VEO high-speed camera family. Equipped with a new 1.2-megapixel CMOS sensor, it features faster recording speeds and 2.5X higher light sensitivity than previous VEO models.
Designed for research, defense, and industrial applications, the VEO 1310 uses a proprietary, 12-bit CMOS sensor to deliver the latest imaging technology in a compact, durable package. It achieves recording speeds over 10,800 frames per second (fps) at full, 1.2-megapixel resolution and higher rates at reduced resolutions. At the same time, it has a native ISO of 25,000 (monochrome) — making it more than twice as light sensitive as the VEO 710 with a greater dynamic range of 60 decibels. Thanks to this combination of features, the VEO 1310 offers increased flexibility in optics and lighting.
The VEO 1310 also includes several advanced features like binning mode, which boosts the frame rate and sensitivity at reduced resolutions. It also offers a 10-gigabit Ethernet option for the fastest download workflow, as well as image-based auto trigger (IBAT), which activates the camera based on motion detected within the live image. The VEO 1310 is available in three memory sizes and two body styles: the L- and S-models. The former is designed for software-based recording while the latter adds features like a 12-volt battery input, on-camera controls, and CFast Media, which supports untethered workflow and provides access to additional signals for data acquisition.
Key Specifications of the Phantom VEO 1310
● 10,860 fps at 1280 x 960 resolution
● Increased frame rates at reduced resolution, for example:
○ 14,350 fps at 1280 x 720
○ 30,030 fps at 640 x 480 standard or 40,300 fps with binning enabled
○ Max frame rate is 423,350 fps at 320 x 24
● Native ISO (12232 STD)—25,000 D (mono) and 6,400 D (color)
● 18, 36 or 72 gigabytes of RAM
● Compact size—the L model is 5 x 5 x 5 inches (12.7 cm3) and 6 pounds (2.7 kilograms)
● Interchangeable lens mounts
● Standard features (all models): binning mode, SDI and HDMI video outputs, programmable I/O, IBAT, quiet mode, auto exposure, exposure index
● Additional features on S-model: CFast Media, on-camera controls, 12-volt battery input, ruggedized connectors and additional I/O including range data
Vision Research will be showcasing the VEO 1310 at the SPIE Photonics West conference in San Francisco, Feb. 4 – 6, 2020, at the AMETEK Booth #1057.
Follow Vision Research on LinkedIn, Facebook, Twitter and YouTube. To learn more about Phantom high-speed cameras, visit phantomhighspeed.com.
About Vision Research
Vision Research is a leading manufacturer of high-speed digital imaging systems that are indispensable across a wide variety of applications, including defense, automotive, engineering, science, medical research, industrial manufacturing, packaging, machine vision, sports broadcast, TV production and digital cinematography.
The Wayne, N.J.-based company designs and manufactures the most comprehensive range of digital high-speed cameras available today, all of which deliver unsurpassed light-sensitivity, image resolution, acquisition speed and image quality.
Over the course of its 60-plus year history, Vision Research has earned numerous awards in recognition of its innovations in high-speed digital camera technology and sensor design, including a technical Emmy and an Academy Award®.
Vision Research digital high-speed cameras add a new dimension to the sense of sight, allowing the user to see details of an event when it's too fast to see, and too important not to™. For additional information regarding Vision Research, please visit http://www.phantomhighspeed.com.
Vision Research is a business unit of the Materials Analysis Division of AMETEK Inc., a leading global manufacturer of electronic instruments and electromechanical devices with annual sales of approximately $5 billion.