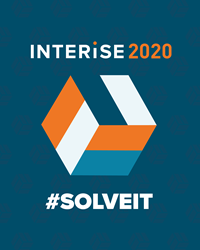 We all have a role to play. Together, we can solve wealth inequality and create a balanced and inclusive economy that works for everyone.
BOSTON (PRWEB) February 26, 2020
City of Boston Mayor Marty Walsh and Lieutenant Governor of Massachusetts Karyn Polito will be among the featured speakers at Interise2020, March 9-11, 2020 at the Hyatt Regency Boston Harbor Hotel in Boston, MA.
Interise is convening visionaries, practitioners, and small business owners to address the systemic issues that contribute to widening inequality in America. Attendees will work together to identify actionable solutions to pursue an inclusive economy that works for everyone.
Register at: http://www.interise2020.org.
Other speakers include Cheryl McKissack Daniel, civil engineer and CEO of McKissack & McKisack, the oldest minority-owned and woman-owned design and construction firm in the nation; Gary Cunningham, CEO and President of Prosperity Now; and Wendy Guillies, CEO of the Kauffman Foundation.
Attendees from 36 states include stakeholders from across the economy who all play a role in actively changing the model of economic development in a time when the United States exhibits wider disparities of wealth between rich and poor than any other major developed nation.
"Interise believes that the number one problem facing America today is economic inequality and the ever widening wealth gap, particularly the racial wealth gap," said Darrell Byers, CEO of Interise. "We all have a role to play. Together, we can solve wealth inequality and create a balanced and inclusive economy that works for everyone."
Over three days, Interise2020 combines invigorating Ted-style "SolveIt Talks," interactive plenary sessions, and business strategy roundtables. The schedule includes a mix of insightful, challenging, and necessary conversations on the role of each individual and organization to close the nation's wealth gap. On March 9, attendees will identify and commit to three actionable solutions to pursue. On March 10-11, attendees will convene for hands-on, tactical breakout sessions.
Other speakers include Malia Lazu, Regional President and EVP Chief Experience and Culture Officer, Berkshire Bank; Ralph Moore, President, RGMA; Howard Wial, Senior Vice President and Director of Research, Initiative for a Competitive Inner City; Dr. Jeffrey Sterling, President & CEO, Sterling Initiatives; Elizabeth Reynoso, Associate Director of Public Sector Innovation, Living Cities; Giselle Mota, Principal, Future of Work; Kevin S. Dick, President and Chief Executive Officer, Carolina Small Business Development Fund; Andrew Wolk, Founder & CEO, Root Cause; and Jen Faigel, Executive Director, CommonWealth Kitchen.
Byers added, "Join us to tackle the nation's most pressing problem—find out how to get involved and become part of the community dedicated to working on a solution."
About Interise
Interise builds an inclusive economy through small business development, supporting the growth of minority-owned small businesses and small businesses located in low- and moderate-income communities. Interise's award-winning StreetWise 'MBA'™ uses a peer-learning method to provide business owners with the knowledge, know-how, and networks necessary to grow and scale. As Interise companies grow, they contribute to local job creation and build community wealth. Interise companies historically create new jobs at 5x the rate of the private sector, and are responsible for the creation of over 30,000 new jobs. Interise partners with government agencies, anchor institutions, and business associations to make locally branded StreetWise 'MBA'™ programs available in 75+ cities, nationwide. Strategic Growth Partners include the Kauffman Foundation, the Surdna Foundation, and the Prudential Foundation. More information can be found at http://www.interise.org/ @StreetWise_MBA and at http://www.facebook.com/Interise