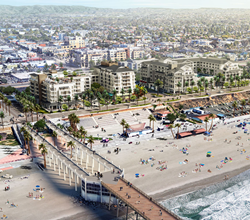 From noteworthy dining experiences to buzz-worthy new hotels and awesome surf contests, these are the top 10 reasons to escape to Oceanside in 2020.
OCEANSIDE, Calif. (PRWEB) March 04, 2020
Oceanside, Calif. continues to give visitors new reasons to seek out this vibrant coastal destination, located 40 minutes north of San Diego. From noteworthy dining experiences to artisan-crafted goods and buzz-worthy new hotels, here are the top reasons to escape to Oceanside in 2020.

Coming Soon: New Beach Resorts
Opening late 2020 with a prime location overlooking Oceanside's historic wooden pier and beach are two new upscale resorts— one flagged as a Joie de Vivre Hotel and the other a Destination Hotels resort. One of the largest beachfront developments along the San Diego coastline in over a decade, the resorts will add a luxe vibe to Oceanside's coast and include ocean view rooms, restaurants, meeting space, public gardens and curated artwork by Oceanside Museum of Art. Plus, the development will be the new home for Oceanside's beloved "Top Gun" house, named for its appearance in the popular movie from the 1980s. The historically protected Queen Anne Victorian is being meticulously restored and will relaunch as a curated food outlet.
Coming Soon: Boutique Historic Hotel & Rooftop Bar
Late 2020 will also welcome a new 10-room boutique hotel set in an historic 1888 building and located in the heart of the Oceanside Cultural District near museums, theaters and the popular Thursday-night Sunset market. The hotel owners have been diligently renovating and restoring the three-story hotel, which is yet to be named but is currently being referred to as the "Brick Hotel" due to its original brick façade. The boutique property will include a first-floor restaurant, hotel rooms on the second and third floors and a rooftop bar. A new cocktail lounge adjacent to the hotel also is part of the project and slated to open Spring 2020.
New Grain to Glass Craft Distillery
Already named one of the hottest cocktail bars in San Diego, Oceanside's Pacific Coast Spirits opened in December and is leading the charge as the only craft distillery, tasting room and kitchen in North San Diego. The 12,000 square-foot space enjoys a prime location on Coast Highway and features indoor and outdoor seating that is casual and comfortable. With a focus on sustainability and locally sourced ingredients, PCS offers a menu of shareable plates and a selection of "grain to glass" house made spirits including American Single Malt, Bourbon, Vodka, Gin, Brandy and Agave Spirit.
The Plot—Plant Based, No Waste
With yummy dishes like chicken and waffles and bone marrow with smoky stuffed potato, it's possible some may not realize The Plot is a vegan restaurant. This leading-edge, eco-conscious new restaurant is entirely plant-based and committed to a responsibly sourced menu and a zero-waste business model, focusing on total utilization of fresh, clean ingredients. The newest venture by Oceanside's dynamic husband and wife duo Davin and Jessica Waite, who also run the popular Wrench and Rodent Seabasstropub and The Whet Noodle, The Plot's business model focuses on good food, community and sustainability with a menu featuring house-made, plant-based proteins.
Carte Blanche: Innovative French-Mexican Bistro
Oceanside's dining scene continues to buzz with new restaurant openings and the French-inspired Mexican Bistro—Carte Blanche Bistro and Bar— is noteworthy among them. Located just a few blocks from the beach in downtown, the creative menu is the invention of Chef Alex Carballo, a well-known local chef who formally ran the kitchen at the iconic Stone Brewing World Bistro & Gardens in Escondido, Calif. The 160-seat restaurant features an airy, colorful décor and lively bar with a French Mexican fusion menu that includes dishes such as carne asada tartare, prickly pear ceviche, duck confit street tacos, chile verde moule frites and quinoa negra with beet and ricotta hummus.
Sidewalk Activism Inspired Artwork
Through June 21, Oceanside Museum of Art is showcasing an exhibit that explores street art and its use as unmediated political commentary. As opposed to spray paint and graffiti related messages, street art holds a different aesthetic, engages a larger audience and is judged on its ability to cultivate change by advocating, motivating or educating the public. The exhibit represents a diverse number of artists and issues from a broad perspective. As an extension of the exhibit, visitors are encouraged to explore Oceanside's own street art through the museum's guided and self-guided tours of the city's downtown murals.
Fun Off the Beach: Axe Throwing, Escape Room and Virtual Reality
It's not all about the beach in Oceanside. A crop of fun, new activities have popped up in the city including Axe Ventures, where visitors can learn the art of axe throwing, School of Hard Locks Escape Room and The Grid, a virtual reality activity center featuring arcade games, hyper tag and even art classes.
Oceanside International Film Festival Celebrates 10 Years
Celebrating its 10th anniversary, Oceanside's International Film Festival kicks off the season of film festivals in San Diego and offers an exciting mix of local and international films alongside special unique events such as the 2019 "talk story" with legendary surf filmographer Taylor Steele. Fest-goers can expect another great year of film and curated events at the 2020 event, which takes place August 12-16 at Sunshine Brooks Theatre.
The Rising Co.—A Maker's Collective
Oceanside's newest co-operative retail space celebrates local makers from artisan-crafted leather goods and candles to vintage finds and slow fashion. The beautifully-reinvented space along Coast Highway is home to popular local goods including Mr. B's Necessities, Rais Case, Wild Habit, Soul Shapers and Mary y Lana. Plus, the co-op also features events, workshops and creative hands-on experiences like candle making classes.
Surfing continues to be a key component of Oceanside's heritage and culture with numerous local hot spots like North Harbor Beach and the Pier featuring some of the best and most consistent waves around. In addition to taking lessons, visitors can experience the excitement through one of Oceanside's numerous surf contests held throughout the year. Popular surf contests include the action sports industry's largest all-female competition and lifestyle series Super Girl Pro, as well as the US Open Adaptive Surfing, World Bodysurfing Championship, Oceanside Longboard Club Contest, Scholastic Surf Series and more.
For more information on Oceanside and all of its events and attractions, visit http://www.visitoceanside.org.
About Oceanside
Perfectly situated between metropolitan San Diego and Los Angeles, Oceanside is a quintessential California coastal escape that includes wide sandy beaches, a quaint New England-style harbor, historic wooden pier and charming bungalow neighborhoods. O'side (as locals affectionately call it) is a destination of discovery where visitors can explore everything from California history at the "King of Missions" to surf culture at the California Surf Museum and awe-inspiring sea life through exciting ocean adventures. This playful and fun destination thrives on taking recreation to the next level and boasts world-class surfing, skateboarding, bike riding, boating and even skydiving. A flourishing farm-to-table food and craft beer, wine and spirit scene reflects Oceanside's creative and entrepreneurial spirit, as do exciting arts and culture programs that earned Oceanside one of just 14 California Cultural District designations in 2017. Classically charming, eclectic and always genuine, Oceanside is an ideal place to stay and a true O'riginal. http://www.visitoceanside.org
About Visit Oceanside
Visit Oceanside Conference and Visitors Bureau is the official tourism marketing organization in Oceanside, Calif; promoting travel to the city for both leisure and group visitors. The organization influences about one-third of the $382 million that is generated by visitor spending in Oceanside each year, which supports nearly 3,500 jobs. Visit Oceanside also operates one of the state's official California Welcome Centers. With just one stop, visitors can find local, regional and state maps, purchase discount tickets to major Southern California attractions, make hotel reservations or shop for the perfect California keepsake. The Visit Oceanside CVB and California Welcome Center- Oceanside are conveniently located just off Interstate 5 at 928 North Coast Highway. For more information, please call (800) 350-7873 or visit http://www.visitoceanside.org.