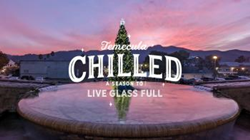 TEMECULA, Calif. (PRWEB) November 24, 2021
Visit Temecula Valley invites travelers to live this holiday (Chilled) season to the fullest throughout the month of December. When the temperatures drop, Temecula Valley fills up with holiday spirit, full of fun things to do, beautiful sights to see, delicious treats to taste. There is more than just wine in Temecula Valley to make the season Joy-Full.
TEMECULA CHILLED
All the events and festivities during the month of December fall under the Temecula Chilled brand. Temecula Valley Wine Country, Old Town Temecula, Pechanga Resort Casino, Promenade Temecula and Vail Headquarters are all festive hubs for Santa visits, delicious treats, holiday performances and the setting for shopping, dining, and having fun.
LIVE PERFORMANCES
Temecula Valley Wine Country, Old Town Temecula and Pechanga Resort Casino have live performances during the month of December. Live music plays at many of the wineries, and don't miss live outdoor performances of The Nutcracker at Europa Village December 2-5. There is also a 3-course dinner option before the show.
Winter Wonderland, A Holiday Concert at Europa Village will be on December 12. There will be a choir, orchestra and Dickens carolers with wine, hors d'oeuvres and photos with Santa & Mrs. Claus.
A Christmas Carol live performance based on Charles Dickens' popular novel will be performed at Old Town Temecula Community Theater December 4-12.
EVENTS + ACTIVITIES
Temecula Valley is Event-Full with events and activities all through the month of December. Vail Headquarters will host a Temecula Chilled Holiday Market on December 10 with family fun activities and photos with Santa & Mrs. Claus. On December 11 they will host Thistle & Sage Fa La La La Vegan Holiday Event which includes vegan eats, shopping, photos with Santa Paus, live music, crafts, and a screening of ELF. Then the Ramble On Holiday Car Show will be December 17-18 showcasing at least 20 VW automobiles.
Santa's Electric Light Parade will light up the street on December 3. The City of Temecula will also host Chilled at the Park on December 18 at Ronald Reagan Sports Park. This event will feature magical entertainment, an ugly sweater contest, a kids zone, food vendors and a firework display at 7:45pm.
Promenade Temecula will host Taste of the Season December 4, Deck the Malls holiday market December 11 and Merry Little Market December 17-19.
Temecula Holiday Artesian Market – Sip & Shop will be a holiday pop-up market at Batch Mead on Dec 12.
A sparkling, festive Old Town will be full of celebrations and special holiday treats. The City of Temecula will offer ice skating December 10 through January 2. Santa visits are every weekend through December 19 at Pennypickle's Workshop.
At Pechanga Resort Casino visitors can see a giant gingerbread and chocolate village in the hotel lobby as well as elaborate holiday décor throughout the property. There is also a series of Chilled drinks at Blends Coffee & Wine Bar as well as Pechanga bars. Santa visits will be December 12-14.
A wine country full of chilly ice rinks and cozy inns offers a month full of things to do. Peltzer Christmas on the Farm features an ice rink, local food trucks, live music and wine. Santa's Wine Country Workshop by Temecula Carriage Company will provide a private horse-drawn carriage to Santa's open-air gingerbread workshop and a visit with Santa. Longshadow Christmas Gala on December 3-4 includes mulled wine, spiced cider, hot chocolate, peppermint taffy toss, live musical performances, Christmas vocal and dance performances.
Bolero at Europa Village will display a Gingerbread Village, created by Executive Chef Hany Ali and his team. Other festive events include 'Tis The Season to Get Ugly, Karaoke Ugly Sweater Party on December 10 at Masia de la Vinya Winery. Sip, Shop & Jingle on Dec 3 at Danza del Sol where there will be holiday shopping, a food truck and live music. Somerset Winery's Motown Christmas will be December 18. It will be a holiday tribute featuring the music of Motown, accompanied by a live band, Christmas carols and dancing.
A Yalda Celebration at Fazeli Cellars will honor the winter solstice on the longest night of the year, December 16. This Persian winery will take part in this ancient celebration with food, drinks and poetry readings.
HOLIDAY FEASTS
Santa Dinner at Lorimar Winery will be December 5. The event includes cookie decorating, Santa goodie bags for children, Santa reading 'Twas the Night Before Christmas, photo with Santa.
Café Champagne at Thornton Winery will serve a Christmas Dinner on December 25. There will be a Christmas Eve Dinner at The Gambling Cowboy.
Europa Village will offer a Holiday Brunch Buffet through December 26 and a Christmas Eve Family-Style Dinner on December 24.
The Vineyard Rose Restaurant will offer a A La Carte Christmas Feast on December 24 & 25.
A Christmas Feast To Go is available at E.A.T. Marketplace and Pechanga Resort Casino.
NYE CELEBRATIONS
The annual New Year's Eve Grape Drop is back in Old Town Temecula with countdowns at 9:00 pm and midnight outside City Hall. There will be a free fun zone with face painters, carnival games, a giant slide, ice skating, live music and dancing.
Wilson Creek Winery will hold their popular annual New Year's Eve Party and Fazeli Cellars will have a Fire & Ice Party.
South Coast Winery Resort & Spa will celebrate New Year's Eve with a prix fixe dinner. The resort will also celebrate with a live music performance, dancing and a late-night small bite buffet.
The Gambling Cowboy will serve a New Year's Eve Dinner on December 31 with an evening of music, magic and more. Lorimar Winery will serve a buffet dinner with live music on the patio and a DJ inside. The Lorimar Ball drop will be followed with a sparkling toast.
CHILLED EAT + DRINKS
In Temecula Valley, they live glass full, and this time of year they live plate full. Don't miss the Chilled Eats & Drinks available at restaurants throughout Temecula Valley. Some not to miss holiday specials are the Christmas Tree Cookie at E.A.T. Marketplace. This is a gluten-free cinnamon shortbread cookie topped with classic Italian meringue then an espresso ganache drizzle. Mad Madeline's Grill has a Peppermint Candy Cane Shake. The Cave Café at Oak Mountain Winery will offer a caramelized apple Napoleon, puff pastry, caramelized apple, Chantilly cream with vanilla bean gelato. Oscar's Brewing Company is offering a special drink, Sipping by the Fire, which is Cutwater Horchata Vodka, orange liqueur, pomegranate juice with crushed candy cane rim. The Goat & Vine will serve a Blueberry Pomegranate Sangria.
STAY PACKAGES
The days are full, the nights are full, and there are plenty of cozy and luxurious rooms and suites available. If you're not spending the night, you're not doing the Chilled Season right.
Europa Village 'Tis the Season Package includes an overnight stay at one of our well-appointed Inn rooms or Casitas, a welcome bottle of wine, and holiday cookie turndown service for two.
Live Glass Full lodging package is available at Bolero Casitas at Europa Village, Carter Estate Winery & Resort, Holiday Inn Express, Quality Inn, Temecula Creek Inn, SpringHill Suites by Marriott, Staybridge Suites, and The New Inn. The offer includes a $50 dining card for a two night mid-week stay booked by December 31, 2021 and stay by February 28, 2022.
A holiday getaway to Temecula Valley Southern California Wine Country will be full of joy and celebration. The glass will be full, the heart even fuller. Start planning your trip at VisitTemeculaValley.com and find out more about Temecula Chilled.
About Temecula Valley & Visit Temecula Valley
Temecula Valley Southern California Wine Country is a year-round vacation destination. It is located just 60 minutes from San Diego, Orange County, and Palm Springs; 90 minutes from Los Angeles.
Visit Temecula Valley is the region's official tourism marketing organization and resource for visitors. The Visitor Center is located in Old Town Temecula. For visitor information and assistance, please call (888) 363-2852 or go to VisitTemeculaValley.com.