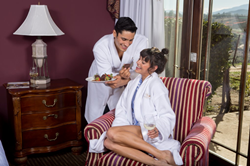 TEMECULA VALLEY, Calif. (PRWEB) January 13, 2020
Temecula Valley Southern California beckons lovers with romantic dining, activities for couples, and breathtaking sunsets. It's the ideal setting to create beautiful memories with a loved one. Known for wedding proposals, destination weddings, and anniversary celebrations, Temecula Valley is a lovers' paradise. Welcoming more than 3-million visitors each year, the casual, picturesque Temecula Valley is located 60 minutes from San Diego and Orange County, and within 90 minutes of Los Angeles and Palm Springs.
There are so many romantic ways to spend Valentine's with a loved one in Temecula Valley Southern California Wine Country. Whether floating above the vineyards, riding through the vines on horseback, or enjoying food and wine in a romantic setting, Temecula Valley has everything to make a stay special for Valentine couples.
Stay the Night
Visitors can stay the night at a quaint bed and breakfast, villa or bungalow almost an arms-reach from the vines, or in uptown district near shopping and dining, or Old Town Temecula's historic district, or on the south end canyon that offers golf, gaming and entertainment. Un unforgettable memories are waiting with several Valentine's package offerings. Pechanga Resort & Casino "Romance" package includes four-diamond accommodations, Domain St. Michelle sparkling champagne, chocolate covered strawberries, in-room American breakfast for two, and 1pm late checkout. South Coast Winery Resort & Spa's new "Galentine's Group Therapy" package is a fun way for four friends to relax and share a wine, spa and fitness adventure at an award-winning winery and resort. This package for four pals includes an overnight stay in a two-room villa, four South Coast Winery tasting tickets, four South Coast Classic Massages at GrapeSeed Spa, fitness class for four and a bottle of South Coast Winery's Group Therapy red wine. Carter Estate Winery & Resort "Horseback Riding" package offers guests a scenic wine country tour through Carter Estate vineyards. The package includes overnight luxurious accommodations, a rose-petal turndown, 90 minutes of horseback riding for two, two tasting tickets at both Carter Estate Winery and its sister South Coast Winery and a continental breakfast for two.
Float Above the Vineyards
Couples can watch the sunrise together in a hot air balloon floating over the vineyards. This is a popular, romantic setting for a marriage proposal and California Dreamin', Magical Adventure, and A Grape Escape are ready with packages that include a "Will You Marry Me?" basket banner, champagne, an intimate, breathtaking, memorable experience.
Ride in a Horse Drawn Carriage
There is something magically romantic about a horse and carriage ride through wine country. Temecula Carriage Company offers private horse drawn carriage rides for couples, complete with an intimate vineyard sunset, a bottle of sparkling wine and a picnic basket of goodies.
Dine with your Love One
Many wineries have amazing Valentine dining options with panoramic views or nestled within the vineyards, including Annata at Mount Palomar Winery, Baba Joon's Kitchen at Fazeli Cellars, Bistro at Bel Vino Winery, Café Champagne at Thornton Winery, Carol's at Baily Winery, Creekside Grille at Wilson Creek Winery, Flower Hill Restaurant at Meritage Winery, Mama Rosa's Trattoria at Robert Renzoni Winery, Meritage at Callaway Winery, Pinnacle Restaurant at Falkner Winery, Sangio's Deli at Cougar Winery, The Restaurant at Avensole Winery, The Restaurant at Leoness Cellars, The Restaurant at Ponte Winery, and Vineyard Rose at South Coast Winery. Or, couples can take a romantic carriage ride in wine country while enjoying Clip Clop Café's lunch or dinner specials through Temecula Carriage Company.
Spa Services
Temecula Valley has three amazing spas all with relaxing, full-service pampering and couple's massages.
Grapeseed Spa is featuring several holiday packages. "Decadence Romance" is a 50-minute aromatic massage for two in a private couple's room ending with a glass of award-winning South Coast Winery Sparkling wine and chocolate truffles. "Galentine" is a package for four guests that includes a relaxing 50-minute South Coast Classic massage followed by a glass of South Coast wine, a poolside lunch with a bottle of sparkling wine, and a private cabana. Spa Pechanga is featuring a 50-minute Signature Massage for two in their couple's massage room with champagne and chocolate truffles. Murrieta Day Spa is offering a "Heart's Delight" package that includes a Swedish Massage and European Facial. They are also offering "It Takes Two" which is two Swedish Massages in their couple's room and lunch for two. Another special for the holiday is "Feel the Love" which includes a Hot Stone Massage, European Facial, Deluxe Pedicure, and lunch.
For more information about these romance activities and more ideas of things to do with your Valentine, go to VisitTemeculaValley.com.
ABOUT TEMECULA VALLEY AND VISIT TEMECULA VALLEY
Laid back, picturesque Temecula Valley Southern California Wine Country welcomes nearly three million visitors each year. It is a year-round vacation destination, located 60 minutes from San Diego, Orange County, and Palm Springs; 90 minutes from Los Angeles.
Temecula Valley Wine Country is widely recognized for its scenic vineyards, award-winning wines, and experiential wineries. The popular boutique destination includes the Temecula Valley A.V.A. (American Viticulture Area) as well as historic Old Town Temecula, and Pechanga Resort Casino. It also was named as a 2019 Wine Enthusiast 10 Best Wine Travel Destination.
Visit Temecula Valley is the region's official tourism marketing organization and resource for visitors. The Visitors Center is located in Old Town Temecula. For visitor information and assistance, please call (888) 363-2852 or go to VisitTemeculaValley.com.