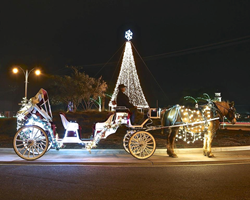 TEMECULA VALLEY, Calif. (PRWEB) November 05, 2018
Visit Temecula Valley invites travelers to celebrate Temecula Chilled during the month of December with 31 days of events and activities that entice travelers to stay three to five nights to experience it all. The destination embraces the charm and romance of the season with horse-drawn trollies, carolers, ice rinks, tree lightings, live performances, light displays and extravagant decorations.
Restaurants offer "chilled" menu items throughout the region, with edibles like Winter Wonderland at The Restaurant at Avensole Winery, which includes a macaron, lavender ice cream, ricotta white chocolate ganache, blueberry compote, and blueberry crème. A "chilled" drink option, which is a Blue Sangria with Ketel One Peach & Orange Blossom Vodka, Blue Curacao, Prosecco, white cranberry juice, prickly pear Sparkling Pellegrino, and garnished with a rosemary sprig and blueberries sprinkled with sugar. More than 20 restaurants are participating with a variety of beverages, entrees and desserts.
Holidays in the Vineyards
With nearly 50 award-winning wineries throughout Temecula Valley Wine Country, they are decking their halls with lights and decor, and hosting special holiday events, offering signature wines, and providing live holiday-themed entertainment. Christmas on the Farm at Peltzer Winery welcomes families and friends with an outdoor ice rink, open daily. Wine country also makes a festive place to stay the night at a bed and breakfast, resort, or vacation rental. There are over fifty places to choose from for couples, families and groups to start new traditions, making the holiday an easy, fun, memorable time together.
Old-Fashioned Christmas in Old Town Temecula
Holiday music, twinkling lights, and a festive, 30-foot centerpiece Christmas tree make Old Town Temecula a must-visit for the holiday season. Visitors can stroll the 12-block, outdoor "chilled" food and shopping district while enjoying a variety of seasonal events and offerings including an outdoor ice skating rink in Town Square Park, Santa's Electric Light Parade, A Holiday Taste of Old Town, live holiday stage productions at the Old Town Temecula Community Theater; and visits with Santa and real snow at Pennypickle's Winder Wonderland. New this year is "Cookie Time." Every Monday-Thursday at 2:00 p.m. a friendly blue-apron host will be handing out free cookies to visitors strolling the sidewalks of Old Town Temecula.
Celebrate in Style at Pechanga Resort Casino
For visitors to the region looking for a Vegas-style holiday without the drive, Pechanga Resort & Casino is the place to be for holiday magic. In addition to two new restaurants, exciting nightlife, more than 500 new suites and deluxe rooms, and the 4000 slots and 140 table games to keep the adrenaline pumping, Pechanga Resort & Casino also gets into the holiday spirit with more than 500,000 lights on display, and 20 holiday decorated trees, a massive gingerbread village made on site, and handmade gingerbread houses for sale. Holiday-themed entertainment options onsite include a live musical production of White Christmas. This Christmas Card musical is presented by Theatre Royale through special arrangements with Rodgers & Hammerstein.
Count Down to 2019
Finish the year off right as Temecula Chilled wraps its 2018 season with fantastic New Year's Eve celebrations. Numerous wineries participate in the countdown with themed dinner parties and live entertainment. Old Town Temecula drops a 10-foot grape cluster each year at City Hall, at both EST and PST midnights. This is a free event, and a perfect night for shopping, dining and outdoor ice skating while enjoying the live entertainment until countdown. Pechanga Resort & Casino joins in the fun with special dinners and New Year's Eve celebrations at the resort's night clubs, bars, and on the casino floor. Reservations are required at the wineries and Pechanga Resort Casino, so be sure to save your spots early, as they sell out quickly.
Special Lodging Promotions
Lodging options are located in Old Town Temecula, Hotel Row on Jefferson Avenue, Temecula Canyon on the south end, and Temecula Valley Wine Country. Choices include popular brands, boutiques and inns, expansive resorts and vacation rentals. All attractions and activities are only a short drive,, or walk no matter where a visitor chooses to stay.
Stay, Shop & Save in Temecula Valley from November 1 through December 10 to receive a $50 Promenade Temecula gift card. This is a great way to get holiday shopping done while enjoying the festive atmosphere. A minimum of two nights is required at one of the participating hotels in Temecula Valley. The gift card is redeemable at all retailers, restaurants, theaters, department stores and eateries located at the mall. Visitors just need to fill out where they are staying.
Stay two nights and qualify to enter to win Chilled Hard Cash. Five lucky winners will receive $1,000 cash. Dates of stay must be between November 24 and December 19. This is an ideal time to visit and enjoy all the holiday festivities.
Explore all of Temecula's holiday events and offerings by visiting TemeculaChilled.com.
About Visit Temecula Valley
With natural gifts of climate and geography Temecula Valley Southern California Wine Country is recognized for scenic vineyards, award-winning wines, and 40+ wineries. The popular, boutique destination includes the Temecula Valley A.V.A. (American Viticulture Area) as well as Historic Downtown Old Town Temecula, Pechanga Resort & Casino, and Temecula Wine Country Golf Trail.
Visit Temecula Valley is the region's official tourism marketing organization and an online resource for visitors at VisitTemeculaValley.com. Temecula Valley Visitors Center is located in Old Town Temecula (Third Street and Mercedes). For visitor information and assistance, call (888) 363-2852 or (951) 491-6085.