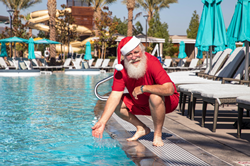 TEMECULA VALLEY, Calif. (PRWEB) November 01, 2019
Some of the coolest holiday events in Southern California take place during the month of December under the Temecula Chilled campaign. From festive decorating to "chilled" menu items to special events, Temecula Chilled is sure to create treasured holiday memories for years to come. The season includes special events and activities enjoyed in the sunshine as well as seasonal dining and special hotel packages that suggest a 3-5-night stay to experience it all. Temecula Valley is an ideal warm winter holiday destination, just 60 minutes from San Diego, Palm Springs, Orange Country, and 90 minutes from Los Angeles.
1. Temecula Chilled Menu Items
Restaurants through the region offer Chilled menu items. The Vineyard Rose at South Coast Winery's special is Trio of Macarons and a Tonka Bean Manhattan. Visitors can treat their inner child at Toast with a Sweet Treat, vanilla shake topped with whipped cream, sprinkles, licorice, cotton candy, and assorted candies. Or they can enjoy a Sugar Cookie Martini. Cougar Winery is offering Brownie in Mint-erland that can be paired with their Vermentino. Cork|Fire Kitchen at Temecula Creek Inn is featuring a Mezcal Penicillin that can be paired with their Salmon Belly Dynamite, a tobiko with avocado, English cucumber, then drizzled with ponzu sauce. Texas Lil's Mesquite Grill has a special Very Merry Apple Martini that delivers a smooth smoky flavor with added hints of Christmas. Wilson Creek Winery offers an Egg Nog with Angelica Cream Sherry, available at Creekside Grille. The Restaurant at Avensole Winery is showcasing a Snow White Mojito. Oak Mountain Winery's holiday special is a Roasted Pork Chop served with pastrami spice, seared belly, gnocchi, farm carrots, onion, mustard, greens. Le Coffee Shop is serving Berries Crepe topped with homemade marmalade, and White Chocolate Lattes, hot or iced. The Meritage at Callaway Winery is featuring a Coconut Panna Cotta with Passion Fruit. Frostbite, a blue raspberry milkshake served with a purple swirl can be ordered at Mad Madeline's Grill. Shake it Frosty at E.A.T. Marketplace is a whipped organic gelato, house made chocolate ganache, an E.A.T. donut, chocolate spear, candied bark, a macaron, topped with ice cream. Baily's has a Blueberry Cheesecake with blueberry coulis. I'm Dreaming of a White Pizza at Goat & Vine can be paired with their Blueberry Mojito Punch. Old Town Spice & Tea Merchants created a Temecula Chiller Tea, a blend of White tea with mint, raspberries and butterfly pea flowers, served hot or cold. Chilled Fudge can be found at Old Town Sweet Shop. For more Chilled menu items, please to VisitTemeculaValley.com.
2. Temecula Chilled in Wine Country
Holidays in the vineyards include nearly 50 wineries decking their halls with lights and décor, hosting special holiday events, offering signature wines, and providing live entertainment. Peltzer Christmas on the Farm starts with its annual Tree Lighting featuring an outdoor ice rink, local food trucks, live music, and Peltzer wine. The ice rink will be open to the public through January 12, 2020. Santa will visit Ponte Winery on December 8, and their will be live music and festivities.
IceFest is a holiday festival nestled in wine country at the legendary Galway Downs equestrian property. Beyond the 7200-square-foot rink at the center of the action, holiday revelers can expect to see performances by local artists and choirs, hayrides, movie nights, a craft fair, open-air ice skating under the stars, and photos with Santa. They will be open daily November 22 to January 6, 2020. The New Year's Eve party will provide a family-friendly countdown at 9pm, and an adults-only midnight celebration.
Temecula Carriage Company will do their annual Jingle Bell Sleigh Rides through more than 100,000 twinkling lights and holiday décor in Temecula Valley Wine Country. This is a 25-minute ride for up to four guests on a private carriage.
South Coast Winery's Christmas Tree lighting ceremony will be on December 1 and will include a buffet dinner, as well as Christmas carolers and a Christmas choir. There will be tractor and horse and carriage rides, cookie decorating, printed photos with Santa. The Buffet will please all with dishes, including seared atlantic salmon with pomegranate cous cous, slow roasted pork loin with butternut squash, grilled marinated chicken with wild mushrooms, as well as assorted Christmas cookies, bars and mini cupcakes. A Kids' Buffet will include Mini Cheese Pizza, Chicken Tenders and Macaroni and Cheese. Everyone is invited to the Hot Chocolate & Cider Station.
Lorimar Winery's annual Tree Lighting on December 1 will celebrate the holidays with Santa, complimentary cookie decorating, hot cocoa, spiced wine, wine sales, special food menu, and more. Callaway Winery will hold their annual Barrel Tree Lighting & Holiday Celebration on Friday, December 13. There will be Christmas carolers, a hot chocolate bar, Santa, cookie decorating, discounts on wine, gifts, and so much more.
Thornton Winery will offer a Tamales Cooking Class on Sunday, December 8 and 15, 2019; reservations required. They will also have a Christmas Day Dinner from noon to 5:00 pm, with a choice of four starter selections and four entrees, and a choice of three dessert options.
3. Temecula Chilled in Old Town Temecula
Charming Old Town Temecula brings holiday cheer to travelers enjoying live performances of holiday classics like The Nutcracker Ballet and A Christmas Carol at the Old Town Temecula Community Theater, outdoor ice skating from December 13 to January 5, "chilled" menu items all month long, Santa's Electric Parade on Friday, December 5, and Cookie Time every Monday through Thursdays at 2:00 p.m. randomly on the sidewalks of Old Town. The popular Holiday Taste of Old Town annual event will be on Tuesday, December 10. This delicious tradition offers restaurant samples as attendees stroll the decorated streets of Old Town Temecula.
4. Temecula Chilled at Vail Headquarters
The holidays will be celebrated at Vail Headquarters on Saturday, December 14. Visitors are encouraged to bundle up for an evening of holiday fun. There will be a holiday gift market, horse-drawn carriage rides, free photo opportunities, and free hot cocoa and treats.
5. Temecula Chilled at Pechanga Resort Casino
Additional Winterfest activities throughout the season include Pechanga Resort & Casino's gingerbread display, an expansive gingerbread display at the Buffet at Pechanga, and hundreds of gingerbread houses for sale at Blends Coffee & Wine Bar. Holiday décor fills the resort inside and out throughout the month of December.
6. Holiday Sip Sip Stay Package
A great hotel package to take advantage of this time of year is Holiday Sip Sip Stay . It includes one complimentary SIP Passport with a two-night stay, or two complimentary SIP Passports with a three-night stay, and a sweet treat. The SIP Passport is good for five standard wine tastings at participating wineries.
7. Holiday Spa Specials
Spa Pechanga invites visitors to get their glow on this holiday season with a GM Collin Stem Cell Facial that will restore youthfulness, soften the skin and bring holiday cheer. A New Year skin resolution can start with a 50-minute HydraFacial, they are offering $50 the second service in January. 'Tis the season to take care of the body and soul. South Coast Winery Resort & Spa is offering several holiday specials at their GrapeSeed Spa. The Hot Toddy Massage, Santa By The "C" Facial and Winter Wonderland Pedicure or Manicure – all featured through the month of December – include the treatment, a beverage and lunch. They also make perfect holiday gifts. The Hot Toddy Massage is a 50-minute South Coast Classic Massage infused with bourbon vanilla, a glass of award-winning wine and a delightful lunch poolside. Santa By The "C" Facial is a 50-minute facial features a Himalayan Superfruit Enzyme Polish packed full of vitamin C. The deliciously aromatic superfruits such as cranberry and pomegranate enzymes help dissolve lifeless skin cells. Fresh cells will then be boosted with intense hydration to help with the dry cold weather. Guests enjoy a refreshing mimosa and lunch to top off their day. Winter Wonderland Pedicure or Manicure is a 50-minute service, glass of wine and lunch.
8. Temecula Valley Restaurant Month
Temecula Valley Restaurant Month is the unique opportunity-of-the-year to taste and savor some of the region's best Hamburgers. Participating restaurants are putting forward their favorite burgers during the month of January. Suggested stops include The Vineyard Rose Restaurant at South Coast Winery, The Restaurant at Ponte Winery, The Restaurant at Avensole Winery, Cork|Fire Kitchen at Temecula Creek Inn, Earth Bistro, Mad Madeline's Grill, and Devilicious Eatery.
9. 28 Days of Valentine Romance
Temecula Valley Southern California Wine Country invites couples to stay, experience, and embrace Valentine romance throughout the month of February. Tempting hotel-resort accommodations, nightly room rates, and packages are companion to romantic dining, memorable hot air balloon flights, vineyard carriage rides, indulgent couple's spa treatments, live music and entertainment, and activities like wine tasting in Temecula Valley Wine Country, exploring Old Town Temecula, and the adventure of Pechanga Resort & Casino. Ponte Winery will have romantic private horse-drawn carriage rides through the vineyards. Temecula Carriage Company invites couples to experience the Clip Clop Café, dining on a carriage ride through wine country.
About Visit Temecula Valley
Laid back, picturesque Temecula Valley Southern California Wine Country welcomes nearly three million visitors each year. It is a year-round vacation destination, located 60 minutes from San Diego, Orange County, and Palm Springs; 90 minutes from Los Angeles.
Temecula Valley Wine Country is widely recognized for its scenic vineyards, award-winning wines, and experiential wineries. The popular boutique destination includes the Temecula Valley A.V.A. (American Viticulture Area) as well as historic Old Town Temecula, and Pechanga Resort Casino. It also was named as a 2019 Wine Enthusiast 10 Best Wine Travel Destination.
Visit Temecula Valley is the region's official tourism marketing organization and resource for visitors. The Visitors Center is located in Old Town Temecula. For visitor information and assistance, please call (888) 363-2852 or go to VisitTemeculaValley.com.