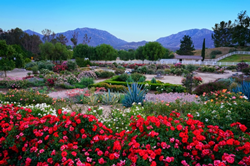 TEMECULA VALLEY, Calif. (PRWEB) January 31, 2020
Springtime in Temecula Valley Southern California Wine Country is an ideal time to smell the fragrant air, see wildflowers and gardens, relax at a spa, and attend events and festivals. Welcoming more than 3-million visitors each year, the casual, picturesque Temecula Valley is located 60 minutes from San Diego and Orange County, and within 90 minutes of Los Angeles and Palm Springs.
Wildflowers & Blossoms
In addition to bud break on the grapevines, every spring the flower bud blossoms are spectacular with an array of colors. Must-see locations for selfies, picnics, and views among wildflowers and gardens are Briar Rose Winery, Lumiere Winery, Vitagliano Winery, and Mount Palomar Winery. Beautiful rose gardens include Europa Village and The Rose Haven Heritage Garden with approximately 1,600 roses. Wisteria fragrance and blossoms can be found at Lorimar Winery, Miramonte Winery, Palumbo Winery, Somerset Winery, and South Coast Winery. Hiking trails at Lake Skinner, Vail Lake, and Santa Rosa Plateau are filled with wildflowers throughout the season.
Festivals & Events
Signature events include Wine Festival & Chocolate Decadence at Pechanga Resort Casino will be held March 6 & 7, 2020. The event includes sculptures and tastings of chocolates and pastries, as well as samples of local, domestic, and international wines and spirits. Temecula Rod Run on May 1 & 2, 2020. The event includes more than 600 pre-1974 automobiles participating in a Cruise Night, Show & Shine on the streets of Old Town Temecula. Reality Rally is a three-day, May 14-16, 2020, filled event with competitions and entertainment. The weekend includes a variety of reality television show contestants that participate in all the fun. The event features an Amazing Race style game where the public can participate as teams. Ending the spring season with a climax is Temecula Valley Balloon & Wine Festival, the valley's premier event. Held at Lake Skinner on May 29 - 31, the colorful celebration features sunrise ascensions, dramatic evening balloon glows, wine tasting, food and wine pairings, and chef demonstrations. Live entertainment fills the stages throughout the day, with top name bands every evening.
Mother's Day
Three indulgent full-service spa experiences make an ideal gift for any mom. Whether it be a facial, body wrap, or other rejuvenating treatment, they won't be disappointed with Grapeseed Spa at South Coast Winery Resort, Murrieta Day Spa, and Spa Pechanga at Pechanga Resort Casino. Grapeseed Spa includes a relaxing with a glass of wine and a vineyard view. Murrieta Day Spa includes dinning and drink options. Spa Pechanga includes a choice of indoor and outdoor pool settings.
Wineries and restaurants offer special brunches and dinners to celebrate moms this time of year, check VisitTemeculaValley.com for a list of Mother's Day specials and activities.
For more information about these springtime activities and more ideas of things to do during this season, go to VisitTemeculaValley.com.
ABOUT TEMECULA VALLEY AND VISIT TEMECULA VALLEY
Laid back, picturesque Temecula Valley Southern California Wine Country welcomes nearly three million visitors each year. It is a year-round vacation destination, located 60 minutes from San Diego, Orange County, and Palm Springs; 90 minutes from Los Angeles.
Temecula Valley Wine Country is widely recognized for its scenic vineyards, award-winning wines, and experiential wineries. The popular boutique destination includes the Temecula Valley A.V.A. (American Viticulture Area) as well as historic Old Town Temecula, and Pechanga Resort Casino. It also was named as a 2019 Wine Enthusiast 10 Best Wine Travel Destination.
Visit Temecula Valley is the region's official tourism marketing organization and resource for visitors. The Visitors Center is located in Old Town Temecula. For visitor information and assistance, please call (888) 363-2852 or go to VisitTemeculaValley.com.