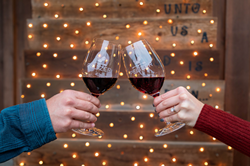 TEMECULA, Calif. (PRWEB) October 29, 2020
This holiday season family and friends are looking for nearby destinations that provides a safe, peaceful environment to share the holidays together. Temecula Valley is prepared to welcome holiday travelers with safety protocols in place that include thorough sanitization, social distancing, and face mask enforcement. Visit Temecula Valley, the destination tourism bureau, has an up-to-date COVID-19 FAQ page on their website so visitors know what to expect before they arrive.
Travelers that had to postpone or cancel their European vacation can book their holiday stay in Temecula Valley Southern California Wine County, where it is often compared to Tuscany. This destination provides wide-open spaces of rolling hills in their scenic wine country with nearly 50 wineries and 19 al fresco style restaurants. In addition, Temecula Valley has set up outdoor dining spaces in Old Town Temecula and Promenade Temecula.
Several Temecula Valley restaurants will be serving Thanksgiving, Christmas Eve, and Christmas Day dinners. The natural outdoor beauty beckons visitors to relax and treasure their time together.
Whether a few friends are gathering for a Friendsgiving or families want to enjoy each other's company stress-free, several restaurants are offering takeout and on-site Thanksgiving dinners, including Cork|Fire Kitchen, The Gambling Cowboy, E.A.T. Marketplace, and Vineyard Rose. For those looking for Asian fare, S!!! Thai Food and 951 Thai Food offer delicious and generous holiday feasts. Grazing Theory is ready to prepare a lavish charcuterie board that will wow holiday guests.
Christmas dinners can be enjoyed without the mess at The Gambling Cowboy, Cork|Fire Kitchen at Temecula Creek Inn, or Vineyard Rose at South Coast Winery Resort & Spa. Another option is to order takeout from E.A.T. Marketplace, 951 Thai Food, or S!!! Thai Food.
During the month of December, Temecula Valley Southern California Wine Country will celebrate Temecula Chilled. This holiday celebration includes colorful light displays, special "chilled" menu items, "A Holiday Taste of Old Town," and plenty of made-in-Temecula products and great gift ideas for shopping.
Chilled menu items will be offered at various participating restaurants throughout the destination. Local chefs have created their own interpretation of "chilled" whether it be drinks, eats or treats. Some restaurants serving these delicious finds are 1909, Cork|Fire Kitchen at Temecula Creek Inn, Delivious Eatery, Earth Bistro, E.A.T. Marketplace, Mad Madeline's Grill, Toast, The Restaurant at Avensole Winery, and Vineyard Rose at South Coast Winery Resort & Spa.
Dining isn't the only thing that's moved outdoors, many shops in Old Town Temecula have expanded to provide a safe outdoor shopping experience. Holiday shopping is ideal in Old Town Temecula for made-in-Temecula olive oils, lavender bath and body products, spice blends, and more. Vintage finds are waiting to be discovered in several antique shops. The holiday music heard throughout town adds to the charm of the buildings and decor. It truly feels like an old fashioned Christmas in Old Town Temecula.
Socially distanced outdoor activities include golfing at CrossCreek Golf Club, Temecula Creek Golf Club, and Journey at Pechanga; horseback riding with Wine Country Trails by Horseback or Green Acres Ranch; hot air ballooning with A Magical Adventures, A Grape Escape, or California Dreamin. There is also hiking and biking at Vail Lake and Lake Skinner.
All wine tasting is offered in the beautiful outdoors among the vineyards, providing acres of open space and scenic beauty. Wineries that tend to have fewer crowds can be found on De Portola and Calle Contento Wine Trails. Less busy wineries found on De Portola Wine Trail are Somerset Winery, Fazeli Cellars, Gershon Bachus Vintners, Oak Mountain Winery, Danza Del Sol Winery, Fangipani Estate Winery, Cougar Vineyard & Winery, and Masia de la Vinya Winery. Calle Contento Wine Trail wineries that are a little more quiet are Vinedemia Vineyard & Estate Winery, and Lumiere Winery. Other unknown but wonderful wineries off the-beaten-path are Chapin Family Vineyards, Foot Path Path Winery, Vitagliano Vineyard & Winery, Lorenzi Estate Vineyards & Winery, and Palumbo Family Vineyard & Winery.
Find your peace in Temecula Valley this holiday season whether it be floating in a hot air balloon at sunrise or watching the sunset in the wide open spaces of Temecula Valley Wine Country, or snuggled by the fire in a clean hotel. Travelers are booking their holiday plans in Temecula Valley with confidence knowing businesses are taking all the precautions to provide a clean, safe, and enjoyable experience for its guests.
Californians can book rooms in wine country, Old Town Temecula, or Uptown Temecula at VisitTemeculaValley.com. Even Temecula residents are booking rooms for their family members to provide a more vacation type experience.
Book a room and start planning a safe holiday getaway at VisitTemeculaValley.com.
ABOUT TEMECULA VALLEY AND VISIT TEMECULA VALLEY 
Temecula Valley is open and welcomes local visitors. The businesses have strict cleaning protocols to ensure everyone's safety and comfort because they consider the health of their employees and guests top priority. They have met and often succeeded county and state requirements. Face masks are strongly recommended when visiting and please be kind to the workers, they are doing everything they can to make the experience an enjoyable one.
Temecula Valley is a popular Southern California destination that includes Temecula Valley Wine Country, Old Town Temecula, and Pechanga Resort Casino. In 2019, Wine Enthusiast named it a 10 Best Wine Travel Destination.
Visit Temecula Valley is the region's official tourism marketing organization and resource for visitors. For visitor information and assistance, please call (888) 363-2852 or go to VisitTemeculaValley.com.