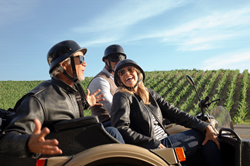 "Allowing our beloved Canadians to visit again is definitely a much-needed morale boost to our local tourism business economy."
TEMECULA, Calif. (PRWEB) November 10, 2021
Temecula Valley experienced an increase in Canadian visitors year over year since 2013, that is, until the COVID-19 pandemic hit. The US Canadian border is now open for non-essential travel for the first time since March 21, 2020. This is long-awaited news, since Canada is the top international visitor to the region. Visit Temecula Valley, the destination marketing and management organization, is optimistic their tourism economy will show an uptick as both countries' borders have reopened to fully vaccinated travelers.
"Allowing our beloved Canadians to visit again is definitely a much-needed morale boost to our local tourism business economy," states Kimberly Adams, President/CEO Visit Temecula Valley. "It's been a challenging 19 months. We look forward to welcoming our international markets back."
For nearly two years, Temecula Valley wineries, shops, restaurants, golf courses, and other tourism related businesses have not seen a Canadian tourist and they are sorely missed. Canadians typically enjoy a plethora of outdoor activities in the sunshine and wide-open spaces during Southern California's winter months.
Canadians can take advantage of Visit Temecula Valley's new Live Glass Full stay package that includes a $50 dining card with a two-night Sunday through Thursday stay booked by December 31, 2021.
It's easy to start planning a trip at VisitTemeculaValley.com.
About Temecula Valley & Visit Temecula Valley
Temecula Valley Southern California Wine Country is a year-round vacation destination pouring award-winning wines as well as craft beers and spirits. Its where people live glass full behind the scenes and under the spotlight. Temecula Valley is made up of a community of Mavericks and Makers that are telling their stories, their way. Stories they carry around in their hearts and minds, and the ready to share with the world with enthusiasm and passion.
The emerging and evolving culinary scene, small town atmosphere, and outdoor recreation and entertainment in Temecula Valley Wine Country, Old Town Temecula, and Pechanga Resort Casino culminate to create a spirited destination inspired by the vine.
Temecula Valley is located in the center of Southern California just 60 minutes from San Diego, Orange County, and Palm Springs; 90 minutes from Los Angeles.
Visit Temecula Valley is the region's official tourism marketing organization and resource for visitors. The Visitor Center is located in Old Town Temecula. For visitor information and assistance, please call (888) 363-2852 or go to VisitTemeculaValley.com.