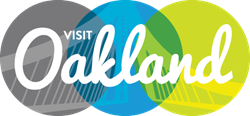 Oakland, CA (PRWEB) August 24, 2017
Visit Oakland, the city's destination marketing organization, Oakland Parks and Recreation, the City of Oakland and - USRowing are excited to announce that the 2018 USRowing Masters National Championships will be held August 16-19, 2018 at Lake Merritt in Oakland, California. USRowing has also committed to returning the same event to Oakland in 2020.
"The Oakland rowing organizations look forward to the opportunity to show the national rowing community what Oakland has to offer," says Mark Everton, President & CEO of Visit Oakland. "Oakland is the perfect destination to host USRowing – we're a vivacious city with a world-class sports community, a booming culinary scene and vibrant art and nightlife. Whether you're preparing for competition or relaxing after a race, Oakland has you covered."
Rowing events during the USRowing Masters National Championships will be held at Lake Merritt. Known as the "Crown Jewel" of Oakland, Lake Merritt is an urban lake in the middle of downtown. With a 3.2 mile circumference, the naturally developed, humanly maintained lake is a mix of fresh and salt water connected to the Oakland Estuary leading out to the San Francisco Bay. The competition-quality waters of Lake Merritt have hosted other water sports and events in the past with USRowing now being the largest competition at the venue to date.
"We are proud to bring this prestigious event back to the west coast," says AJ Dominique, USRowing Senior Events Manager. "The City of Oakland, Visit Oakland and the Oakland rowing community plan to create an engaging experience, both on and off the water. Lake Merritt offers easy accessibility, beautiful park grounds and an urban setting that will make for a truly unique regatta."
To enhance the rowing experience for participants and spectators, Visit Oakland has dedicated the activation of "Oakland Rowing Week" during the USRowing Masters National Championships. The Oakland Rowing Week activities will include "learn to Row" experiences, demonstrations by local rowing and boat clubs and children's rowing discovery activities. Through such initiatives, Visit Oakland aims to generate community excitement, curiosity and anticipation for future rowing events and collaborations in the city.
###
ABOUT USROWING
USRowing is a nonprofit organization recognized by the United States Olympic Committee as the governing body for the sport of rowing in the United States. USRowing has 83,000 individual members and 1,350 member organizations, offering rowing programs for all. USRowing receives generous support from the National Rowing Foundation and its corporate sponsors and partners. For more information, see our website at http://www.usrowing.org and follow us on social media using @usrowing.
ABOUT VISIT OAKLAND
Visit Oakland is a non-profit organization marketing Oakland, California as a travel destination. Visit Oakland offers a wide variety of complimentary services and materials for travelers interested in visiting Oakland. For more information, visit our website at http://www.visitoakland.com and follow us on social media using @visitoakland and #oaklandloveit.